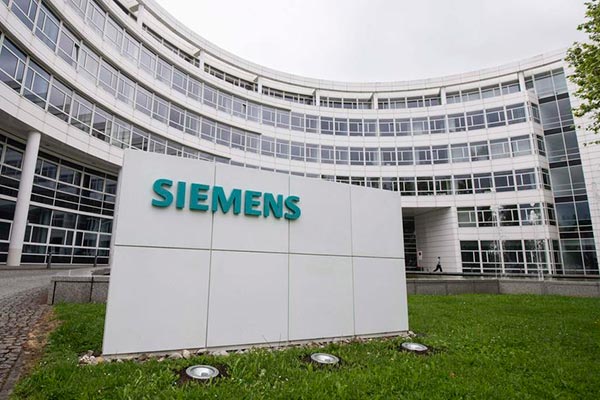 A Siemens logo is pictured on an office building of Siemens AG in Munich in this May 30, 2014 file photo.[Photo/Agencies]
German engineering and electronics conglomerate Siemens AG will establish a new innovation center in China and further enhance its market presence in South China's Pearl River Delta region next year.
The company said the center will work right across its different divisions, and employ 300 staff to conduct research on new digitalization solutions for both the Chinese and global markets.
Roland Busch, a member of Siemens' management board, said the country's surging wealth and ongoing urbanization process have put traditional labor-intensive industries under huge pressure in terms of technology upgrade, recruitment and high employee turnover.
Siemens will increase investment for research and development by 300 million euros ($326 million) to a total of 4.8 billion euros globally next year, as well as deploying more resources and technologies in Pearl River Delta region, especially in Guangdong, one of China's traditional manufacturing bases.
The company will be investing more resources in its various facilities in Guangdong province, one of China's traditional manufacturing bases.
That expansion plan will include building a rail equipment manufacturing base in Jiangmen, as well as introducing more advanced factory equipment and traffic control systems, green building construction and management processes, and smart grid and electric vehicle manufacturing equipment at its facilities in the Hengqin New Area of Zhuhai.
Xiao Song, executive vice-president of Siemens (China), said: "We are also making changes that will allow further penetration into more second-, third- and fourth-tier cities in Western China in coming years."
China has been implementing a key national economic plan called Made in China 2025, which is aimed at enhancing the country's manufacturing capacity by focusing on information technology, technological progress and knowledge-based green development.
"Upgrading China's industrial operations will consume less energy in the future, since they will be organized to optimize machine usage, labor, and product and service delivery," said Busch.
"Large Chinese manufacturers are already in the midst of an upgrade boom, while small and medium-sized companies also have the chance to benefit from this transformation."
The German industrial giant last month announced it had signed a memorandum of understanding to provide vocational training and education services to Guangdong province's human resources and social security department. It will help train more teaching professionals and establish new training facilities to satisfy a growing demand for better-trained industrial workers.