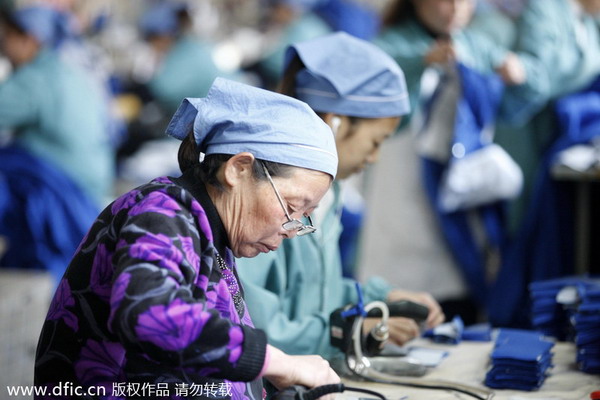 Female Chinese workers sew clothes to be exported to the United States and Europe at a garment factory in Huaibei city, east Chinas Anhui province, Jan 1, 2014. [Photo / IC]
A number of positive factors will gradually gain traction in 2016, although downward pressures on growth such as overcapacity, profit deceleration and rising nonprofit loans will persist, according to a research report from the People's Bank of China.
Ma Jun, chief economist at the central bank's research bureau, said a baseline forecast for real GDP growth in 2016 is 6.8 percent, slightly lower than the expectation of 6.9 percent for this year. For next year, the baseline CPI inflation forecast is 1.7 percent, he said.
Real estate investment will see a slow rebound, he added.
Sales of China's commercial residential buildings increased by an average 22.4 percent year-on-year from April to November, much higher than a minus 7.8 percent year-on-year in the previous 15 months.
Growth in land transfer fees of 300 major cities picked up in the past several months. The recovery of the two indexes is expected to restore investors' confidence; however, there will be a time delay given the high inventory and weak demand in some medium to small cities, so investment is expected to pick up in the second half of 2016, Ma said.
Macro and structural policies are expected to show delayed impacts. The People's Bank of China has lowered interest rates and the reserve requirement ratio five times since the beginning of 2015, which has greatly reduced financing costs.
Along with the proactive fiscal measures adopted by the government, the policy adjustments are expected to have a measurable impact on CPI over a period of about five quarters. CPI faces upward risks including rebounds in oil, and food and real estate prices, while the downward risks include lingering low oil prices and falling commodity prices, led by a stronger dollar, according to Ma.
Services and green industries will be the new drivers. Emerging industries such as culture, entertainment, tourism, housekeeping services, environmental protection treatment, clean energy, electric cars, e-commerce and intelligent manufacturing have gradually become new drivers for the economy.
Demand for housekeeping services will continue to grow thanks to the new "two-child policy" and an aging population. More stringent environmental standards and enforcement will support green investment and bolster the development of new energy, energy efficiency and environmental protection, the report said.
Online video is expected to have greater potential for development due to improved intellectual property protection for movies and television programs. The implementation of the China Manufacturing 2025 strategy will promote the development of industries such as the new generation telecommunication technologies, numerical control machine tools, ocean engineering equipment, new materials and biological medicine, Ma said.