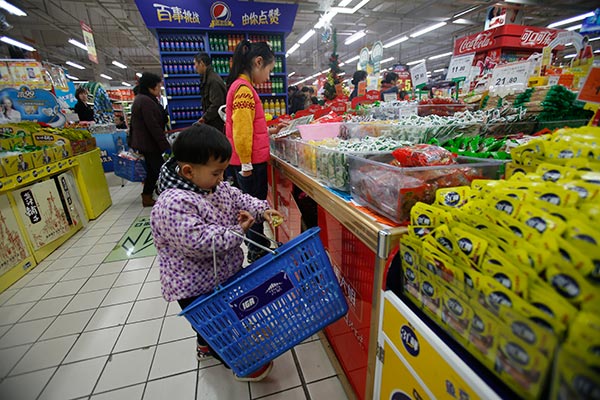 Customers shop at a supermarket in Hangzhou, Zhejiang province, earlier this month. China's private consumption is expected to increase by around 9 percent annually in the next five years.[Provided to China Daily]

With incomes rising, three 'great forces' transforming the country's marketplace-especially e-commerce
China is projected to remain one of the world's fastest-growing consumer markets by 2020, reaching $6.5 trillion in annual private consumption even if annual GDP growth slows to 5.5 percent over the next five years, according to a study by Boston Consulting Group and AliResearch, the research arm of Alibaba Group Holding.
The country's official growth target is 6.5 percent during the 13th Five-Year Plan (2016-20).
The projection was based on the assumption that private consumption would total $2.3 trillion in the next five years and increase by around 9 percent annually. Such growth would be comparable to adding a consumer market 1.3 times the size of today's Germany or United Kingdom.
The report identified three "great forces" that are ushering in this transformation: the rise of upper-middle-class and affluent households as drivers of consumption growth, a new generation of more sophisticated free-spending consumers and the increasing power of e-commerce.
Through 2020, 81 percent of the growth in consumption will come from households whose annual income is more than $24,000, the study said. Consumers 35 years of age or younger will account for 35 percent of that.
E-commerce will become a far more important retail channel, driving 42 percent of total consumption growth, with 90 percent of that growth coming from mobile platforms.
The products fueling China's consumer boom will also change. Services will overtake goods as the chief engine, accounting for 51 percent of total incremental consumption.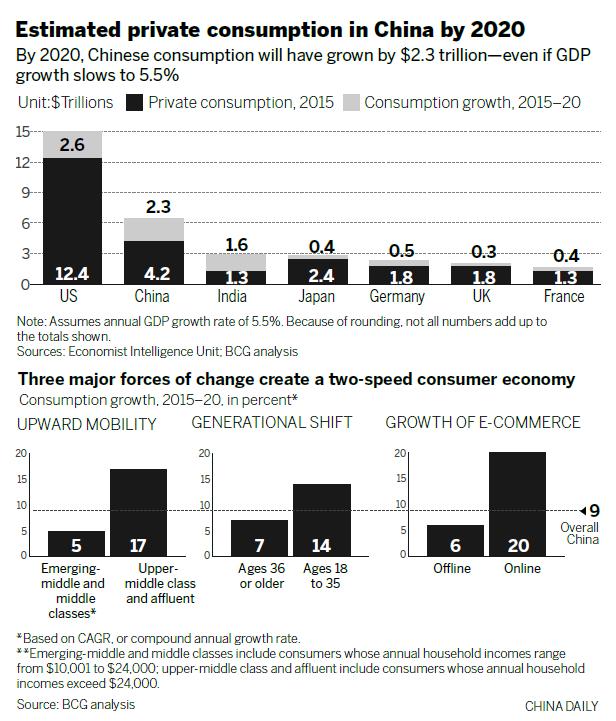 Demand for premier goods and services that enhance a personal sense of well-being-such as healthy food, education and travel-rather than daily necessities will accelerate.
"E-commerce is transforming China's marketplace. Our research found that e-commerce actually stimulates new demand in China by filling many needs that aren't being met by brick-and-mortar stores," said Gao Hongbing, director of AliResearch. "Spending on organic and imported foods by online shoppers has expanded eightfold in the last three years, for example."
An analysis of sales of several leading premium skin-care products on Taobao, for example, found that 45 percent of online sales originated in cities that don't have those goods available in local stores.
The report said that because of the nature of the consumption changes, which are dramatic, the winning strategies of the past are becoming outdated, and it's more important than ever for companies to make good strategic decisions in the way they pick consumer targets.
"The days are over when demand in China for everything seemed insatiable," said Youchi Kuo, a principal of BCG. "Targeting the wrong income segment, playing in the wrong categories or being unrepresented in the fast-growing online channel will be a formula for slow growth."