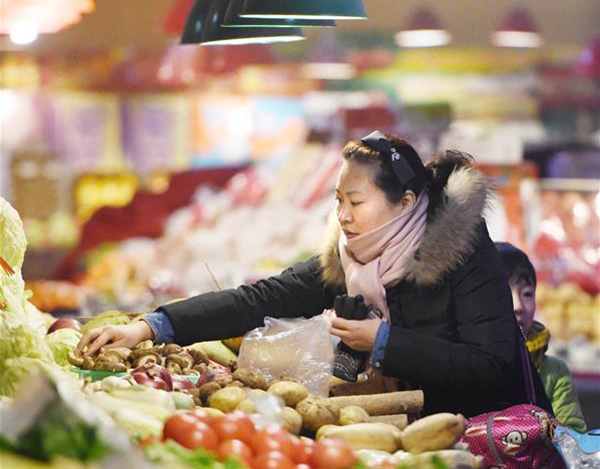 A resident selects vegetables at a market in Zhengzhou, central China's Henan Province, Jan 9, 2016. China's consumer price index increased 1.4 percent year on year in 2015, down from a 2 percent increase in 2014. [Photo/Xinhua]
BEIJING - China's consumer inflation continued to slow in 2015 due to lackluster domestic demand amid a slowing economy, official data showed on Saturday.
The consumer price index (CPI), a main gauge of inflation, increased 1.4 percent year on year in the last year, down from a 2 percent increase in 2014 and 2.6 percent in 2013, the National Bureau of Statistics (NBS) said in a statement.
The reading hit a six-year low and was far below the government's 3-percent target set for the year, data showed.
In 2015, food prices, accounting for one-third of the CPI calculation, rose 2.3 percent and non-food prices edged up 1 percent.
Consumer prices started to pick up moderately in the last quarter of the year as CPI growth recovered to 1.6 percent in December from November's 1.5 percent and October's 1.3 percent.
On a monthly basis, December's CPI edged up 0.5 percent against the previous month.
The NBS attributed the mild recovery mainly to rising food prices as vegetable and fruit prices jumped after rain and snow hindered production. Non-food prices remained flat.
China's producer price index (PPI), a measure of cost for goods at the factory gate, dropped 5.2 percent year on year in 2015, widening from a 1.9-percent slip registered in 2014.
In December, the PPI fell 5.9 percent from a year ago, unchanged from November, marking the 46th straight month of decline.
The decline was due to price drops in oil and natural gas exploitation, ferrous metal smelting, coal mining and fuel gas supply.
HSBC analyst Qu Hongbin said CPI and PPI growth was much lower than previous levels, showing rising deflation pressure caused by sluggish demand will pose a major risk in 2016.
He called for more policy easing and supply-side reform to tackle the problem.