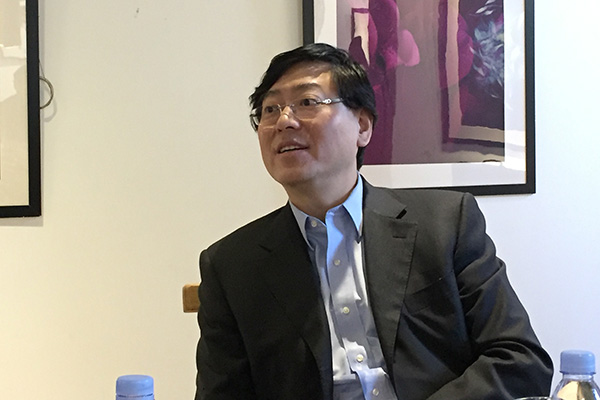 Yang Yuanqing, CEO of Lenovo Group, speaks to media during a group interview held on December 17th, 2015 at Wuzhen, Zhejiang province. [Liuzheng/chinadaily.com.cn]
"President Xi's latest Internet development proposals announced at the 2nd World Internet Conference (WIC) will inspire the country's Internet practitioners and the support coming from the government will bring a great opportunity for smart devices makers going global," said Yang Yuanqing, CEO of Lenovo Group.
Yang sat down with China Daily during the ongoing WIC held though Wednesday to Friday at Wuzhen, Zhejiang province, to share his outlook on the future development of the company's next smart devices, which will utilize cloud computing based on the Internet of Things (IoT).
"Lenovo is not only a traditional IT company, but also reserves an innovative spirit as a pioneer in the Mobile Internet era," said Yang.
According to Yang, the Chinese tech giant will produce a series of smart devices embedded with "brains of the cloud".
"We are eager to enable more hardware devices to be activated in our IoT platform and by creating new application settings and environments, such as smart living room management devices, more potential markets will be stimulated in the industry," said Yang.
Big Data, cloud computing and IoT are some of the trendy topics that have been discussed and developed by companies from Western countries in recent years.
"The technology gap between Chinese IT enterprises and their counterparts in the US is obvious and the brand awareness of Chinese products still needs to be improved," said Yang.
"But innovative business models appearing in the country's market have contributed to the leaping development of the sector and provided potential growth space for new technologies," Yang added.
Currently, the company is expanding its wings in the emerging markets outside China.
According to the latest figures unveiled by International Data Corporation (IDC), thanks to Motorola's line-up, Lenovo moved up to fourth place in the Indian market in the third quarter of 2015, owing to a strong 58.6 percent sequential growth. The company captured 9.5 percent of the smartphone market share driven mainly by Lenovo's K3 note, A6000 plus, and Moto G 3rd Gen.
The group has also started local manufacturing of its smartphones in India to further strengthen its position in the market.
Yang expressed that Southeast Asian countries, such as Indonesia, will be the company's next target market in 2016.