Health drinks, which are already a multibillion-dollar industry in the United States, are starting to make inroads into China as demand for wellness products rises.
The latest health fad involves consuming drinks that are said to cleanse and detoxify the body. It is a trend that is extremely popular in the mature markets like the United States and Europe.
These days, a growing number of consumers in China are indulging in cold-pressed juices and smoothies.
"Juice fasting is becoming popular in large cities in China. Often, people feel they are losing control of their diet and health, and they are under large amount of stress," said Jacqueline Zhan Fraise, a Shanghai-based nutrition consultant. "Juice fasting seems to be an easy and approachable way of getting back on track."
Melissa McKenna, a native of Arizona, the US, was one of the first entrepreneurs to introduce the cleansing juice movement in China after realizing it was an untapped market in the country.
Her company Juice by Melissa has been delivering raw and unpasteurized cold-pressed juices to Beijingers since its launch in December 2013.
The premium juices are produced in Beijing with organic fruit and vegetables from Yunnan and imported nuts from Australia and chia seeds from South America.
Formulated by McKenna herself who has a background in nutrition, the juices are either sold individually or offered in daily sets of six bottles with each containing the necessary nutrients to replace a solid diet.
The price for a daily juice cleansing is 360 yuan ($55), while individual cold-pressed juices to complement a diet can start at 25 yuan.
Experts said that a juice cleansing can last for as little as 24 hours, but those who want a deep cleansing can aim for a one- or two-week detox program.
Juice and smoothie detox and cleansing businesses vouch that cold-pressed concoctions allow the digestive system and liver to eliminate accumulated toxins.
Although Juice by Melissa would not disclose annual revenues, it said that sales have registered a 40 percent increase since the inauguration of a second store in Shunyi, on the outskirts of Beijing, in April this year.
The company plans to open five to 10 new stores in the next two years in Beijing to match the increasing demand for its products.
"I think the health and fitness culture is going to boom in the next three years in China," said McKenna. "I don't even expect it to be a steady flow. Instead, we are going to see a major expansion of these services in China all of a sudden."
The market size of China's health beverage market reached 840 billion yuan in 2015 with an average annual growth rate of 16.6 percent from 2010, according to Frost & Sullivan - a market consultancy.
"Last year, beverages that offer wellness or functional benefits grew faster than the industry average," said Ryan Zhou, senior director of Nielsen China.
Although it is still a niche sector, the growth of these business ventures reflects the increasing acceptance of health products among consumers.
"The market share of juices with cleansing and detox functions may be small now but their dynamic innovations, such as products designed for different demographics, or blending with trendy and healthy ingredients, allowed them to gather lots of attention in recent years," said Ching Yang, a market analyst from Mintel Group Ltd.
The market for health drinks is likely to keep a two-digit growth at an average rate of 13.7 percent from 2015 to 2020, said Frost & Sullivan.
"However, there are barriers to conquer, such as the premium price, cold-chain distribution system and consumers' unfamiliarity," said Ching Yang from Mintel.
US-born Elizabeth Schieffelin set up the base of her health drinks business in 2014 by blending superfood smoothies that she sold at farmer markets, schools and fitness studios in Shanghai.
With profits earned from market sales and money raised from a crowdfunding campaign, she generated enough finance to open her first Lizzy's All Natural shop in May 2015 in Anken Life, a wellness complex in Shanghai.
Although Schieffelin would not share revenue figures, she noted that her self-funded company is now growing organically with plans to open an additional shop this summer.
"I do plan to continue to grow and expand so that there are more foods available in more locations around Shanghai," said Schieffelin.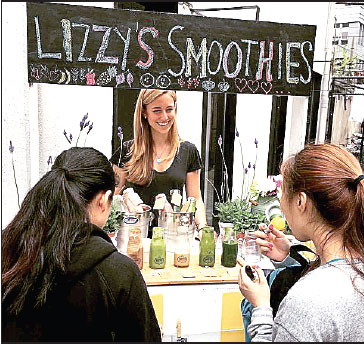 Elizabeth Schieffelin (center) at her Lizzy's All Natural booth in a market in Shanghai. [Photo/China Daily]