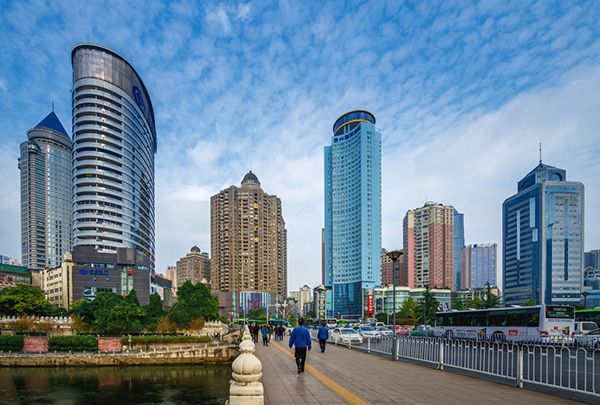 City view of Guiyang, Guizhou province on Nov 19, 2015. [Photo/IC]
As we drove from Guiyang's airport to the countryside, we passed a skyline dotted with construction cranes.
Scores of high-rises are at various stages of completion. There was construction everywhere, as far as the eye can see.
So, what is going on in the capital of Guizhou province?
"Nothing special," a colleague who has been traveling with me explained. "It is just part of a construction boom across the nation."
That is a boom started at the turn of the century, and has continued unabated despite talks of "tough times".
The National Development and Reform Commission said in April that more than 56 percent of China's 1.38 billion people lived in cities in 2015. Compare that with just 26 percent in 1990!
The report from the country's top economic planning agency also noted that the number of cities leapt from 193 in 1978 to 653 in 2014.
Czech-Canadian environmental scientist Professor Vaclav Smil's 2013 book, Making the Modern World: Materials and Dematerialization, provides an interesting insight into China's urbanization.
Smil reveals that China used more cement in three years (2011-13) than the United States in the entire 20th century! That is 6.6 gigatons vs 4.5 gigatons!
The staggering statistics show the breakneck pace of urbanization in China. It also reflects China's economic resilience.
As we arrived in the beautiful city of Renhuai, about four hours from Guiyang, the story was the same. Still more construction - in the city center, on the outskirts and in nearby towns.
Renhuai is also home to Moutai, the high-end spirit distilled by Kweichow Moutai Co Ltd in the town of Maotai. Its entire 2015 production of around 39,000 metric tons has been sold out, company executives said.
With each 500-ml bottle costing 900 yuan ($137) on average, that is not a sign of economic slowdown either!
Officials with the central government have been stressing that all the talk of doom and gloom is not based on facts, and the country's economic fundamentals are strong.
Chinese diplomats abroad have been driving home this point.
Earlier this year, China's ambassador to the United Kingdom, Liu Xiaoming, wrote in The Telegraph newspaper that China remains one of the fastest-growing major economies, and that it contributes more than one quarter of the global growth.
"It is true that the 6.9 percent growth in 2015 was the lowest for China in 25 years," Liu acknowledged.
"But this was achieved by an economy that is $10 trillion in size. The actual increment is equivalent to the yearly GDP of a medium-sized country and it is larger than the amount generated by double-digit growth years ago."
Officials argue that with a huge cash reserve and a budget deficit of just under 3 percent, China still has a lot of firepower in its economic arsenal.
As far as the government is concerned, there's no slowdown. Earlier this month, it announced plans to invest as much as 77 billion yuan ($11.73 billion) in the aviation sector this year alone.
State-owned airlines like Air China Ltd and China Eastern Airlines Corp Ltd have also announced plans to acquire new aircraft worth billions of dollars as they expand globally.
Foreign direct investment in the Chinese mainland rose by 4.8 percent year-on-year to 286.78 billion yuan in the January-April period.
On our way home, we stopped over in the historic city of Zunyi where freshly picked waxberries were being snapped up by tourists and locals alike.
It looks like the "economic slowdown" is in our minds, not in reality.