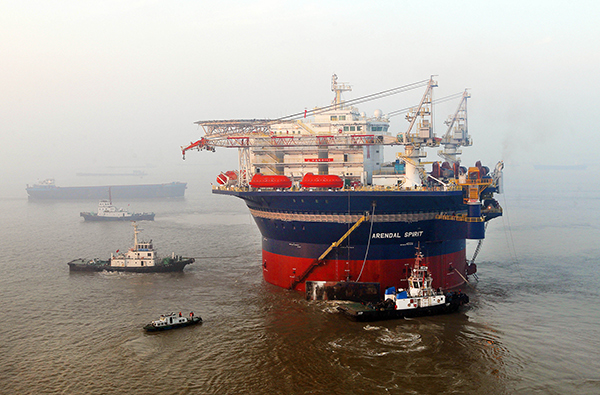 A ship designed by a COSCO unit in Nantong, Jiangsu province, on a trial sailing. It was made to operate under tough ocean conditions. [Photo provided to chinadaily.com.cn]

Move will strengthen firm's capabilities in shipping oil, gas to safeguard energy security
China COSCO Shipping Co, the country's largest shipping company by fleet size, officially launched COSCO Shipping Energy Transportation Co in Shanghai on Monday, creating the world's largest oil tanker fleet in terms of both ship numbers and deadweight tonnage.
With a total of 105 oil tankers, including nine liquefied natural gas carriers and a deadweight tonnage of 17.04 million, the new company has the world's biggest fleet of oil tankers and the largest transport capacity of its kind. The asset value of COSCO Shipping Energy Transportation accounts for 11 percent of COSCO Shipping's total assets, and its oil tanker fleet holds 20 percent of the group's entire shipping capacity. COSCO Shipping Chairman Xu Lirong said that the establishment of the new company is a practical way to achieve business scale and synergies particularly in the sectors of energy shipping and logistics, in order to better compete with other established global rivals.
"This move is also part of ongoing restructuring of State-owned enterprises," Xu said at the inaugural meeting in Shanghai.
"The group will use this new setup to strengthen its capabilities in shipping oil, gas and other energy resources to ensure China's energy security."
The new company was formed by the previous China Shipping Development Co and COSCO Dalian Ocean Shipping Co.
COSCO Shipping Energy Transportation is also involved in investing in up to 25 LNG carriers, and it has more than 200 large domestic and overseas business partners in the oil and gas sectors such as China National Offshore Oil Corp, Royal Dutch Shell Group and BP Plc.
"COSCO Shipping's new step will transform its businesses into a more diversified operation model that can take full advantage of the opportunities likely to come from the Belt and Road Initiative and the development of the Yangtze River Economic Belt, said Wang Mingzhi, deputy director-general of the waterborne transport bureau at the Ministry of Transport.
Wang said the group will not only improve the country's ability to ensure its energy, economic and transportation security, but also play a key role in demonstrating that "reform is the fundamental way for SOEs to grow and prosper".
COSCO Shipping Energy Transportation will develop business operated by LNG carriers as a priority during China's 13th Five-Year Plan (2016-20).
Eager to develop businesses in logistics, energy development, industrial equipment manufacturing, financial and shipping services, COSCO Shipping also launched COSCO Shipping Financial Holding Co in Hong Kong last week to diversify the group's businesses in the financial services including vessel leasing, investments, finance management and insurance.