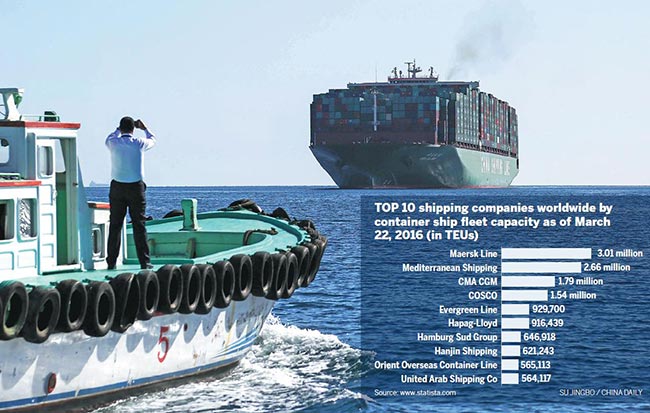 COSCO-led partnership to take on current market dominance by Danish-Swiss group 2M
China COSCO Shipping Corp Ltd and three partners, including France's CMA CGM SA, on Wednesday announced a new shipping partnership, OCEAN Alliance, formed to challenge 2M-the world's largest container carrier alliance.
Formed by Denmark's Maersk Line and Switzerland's Mediterranean Shipping Co SA, 2M started its operations in 2015, and controls more than 2.1 million twenty-foot equivalent units, and manages more than 200 vessels.
Other members of the new COSCO alliance are Taiwan-based Evergreen Line and Hong Kong's Orient Overseas Container Line.
The alliance will bring service reliability and integration of the latest vessels in a fleet of more than 350 container ships. The deployment will initially cover more than 40 services globally, mostly connected with Asia.
Alphaliner, a French maritime research firm, estimated the OCEAN Alliance will have around a 30 percent share of the global container shipping market, similar to the market share owned by 2M especially on the Asia-Europe and Pacific routes.
"This new partnership will allow each of its members to bring significantly improved services to its respective customers," said Yu Zenggang, executive vice-president of China COSCO Shipping.
Yu said shippers will have an attractive selection of frequent departures and direct calls to meet their supply chain needs, including access to a vast network with the largest number of sailings and port rotations connecting markets in Asia, Europe and the United States.
Subject to regulatory approval by competent authorities, the new alliance plans to begin operations in April 2017. The initial period of the alliance will be five years.
OCEAN Alliance will enable each member to offer competitive products and comprehensive service networks covering the Asia-Europe, Asia-Mediterranean, Asia-Red Sea, Asia-Middle East, trans-Pacific, Asia-North America East Coast, and trans-Atlantic routes, the member carriers said in a joint statement.
Yin Zhen, deputy director of transport planning at the Institute of Comprehensive Transportation at the National Development and Reform Commission, said the new partnership will certainly split up three of the current four main East-West alliances-2M, O3, CKYHE and G6.
Further details about OCEAN Alliance and the transition plans for the four member lines will be communicated to stakeholders and the market in due course, said the statement.
Dong Liwan, a shipping industry professor at Shanghai Maritime University, said China COSCO Shipping wanted to form a stronger alliance to challenge 2M's ascendancy in the East-West trading route, as well as cut connections with certain weak partners within the current alliances to prevent further financial losses.
Alliance members will also share coordinated sailing schedules, commercial information and land-based logistics networks which can help cut costs.
"In addition, slow economic growth in both developed and developing markets has caused more than one-third of overcapacity of vessels. This has put more financial pressure on shipping companies to cut the number of employees and they are struggling to cover their costs," said Dong.