China COSCO Shipping Corp Ltd, now the world's largest bulk vessel and oil tanker operator by fleet size, is to deploy more resources to six new businesses, Chairman Xu Lirong said on Thursday.
They will focus on logistics, industrial equipment manufacturing, financial and shipping services, investment, and operations linked to the country's "Internet Plus" development program, he said.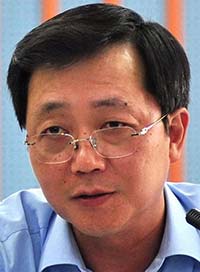 Xu was speaking in Shanghai at the company's grand opening.
The newly formed company brings together China's two biggest State-owned shipping conglomerates-China Ocean Shipping (Group) Co and China Shipping (Group) Co-to further compete against well-established global rivals.
"New businesses such as multimodal transportation, warehouse network development, shipping insurance services, offshore engineering equipment manufacturing, hospital and hotel management are all included in the newly formed conglomerate's scope in the long term," Xu said.
Employing 118,000 staff and managing 46 container ports and 190 berths around the world, the new entity has an annual throughput capacity of 90 million twenty-foot equivalent units, or TEUs.
It also operates a number of shipyards and maritime engineering equipment manufacturing bases in Zhejiang, Jiangsu and Shandong provinces.
To enhance its earning abilities, the company will complete the reorganization for its container business by the end of March, said company officials.
It also expects to restructure resources and staff at its bulk vessel and logistics companies from April.
Xu said the planned six new businesses are expected to transform the group's operational model-shipping into a more diversified operation that can take full advantage of the opportunities likely to come from the Belt and Road Initiative, the development of the Yangtze River Economic Belt, as well as encouraging domestic companies to expand overseas.
Zhang Xiwu, deputy head of the State-owned Assets Supervision and Administration Commission, said China COSCO Shipping will improve the country's ability to ensure its energy, economic and transportation security, as well as play a leading role in the ongoing reform of State-owned enterprises.