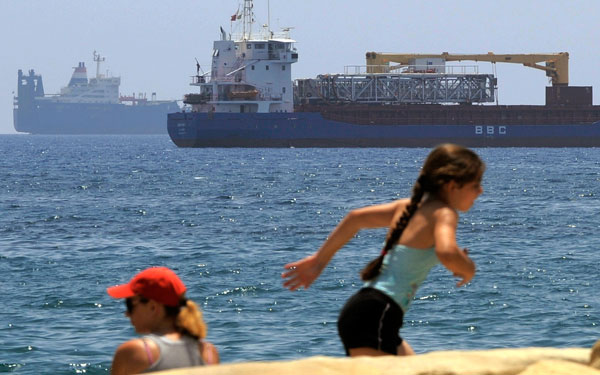 View from the dockside of the Santiago in the port of Limassol, Cyprus. [Photo/Agencies]
Shipping group joins 13 others in bidding for Limassol Port
Fresh from its success in securing control of Greece's Piraeus Port Authority SA, China Ocean Shipping (Group) Company, better known as COSCO, is now bidding to run the port of Limassol on the island of Cyprus, in a bid to extend its reach in the Mediterranean Sea.
China's newly combined and largest shipping company by capacity is among 14 investors who expressed interest in placing bids for three concession opportunities, according to a senior source in the Cypriot government.
COSCO is one of the six bidders for the port's container terminal and one of five vying for the multipurpose terminal, according to the source. Another three companies have placed bids to run a marine services concession, the Ministry of Transport, Communications and Works said on Jan 21.
Other companies interested in the concession opportunities are DB World of Dubai and Phillipines-based International Container Terminal Services Inc, the source said.
COSCO's interest in the Limassol port came after it was declared the preferred, and only, bidder for a controlling stake in Piraeus Port, Greece's biggest harbor, and one of the largest in the Mediterranean.
COSCO consolidated its hold over Piraeus Port Authority SA on Jan 20, agreeing to pay 368.5 million euros ($402 million) for a 67 percent stake after increasing its offer to clinch control of what is seen as a key thoroughfare into Europe.
Limassol Port is the main port in Cyprus, serving most of the island's seaborne cargo and passenger traffic. The port accounts for nearly all container traffic, about half of total cargo and 75 percent of passenger traffic on the island, according to the tender documents.
Andreas Michaelides, general director of the transport ministry, said in an earlier statement that the country's aim was to make the port of Limassol a "gateway for development for the future".
The Cypriots hope to draw investment to a port that may well be able to offer hydrocarbon support services in the future to support a burgeoning offshore oil and gas industry in the region, considered instrumental to Cyprus's future economic development.
Foreign Minister Wang Yi said during a visit to Nicosia last month that China is interested in operating Cypriot ports and wants to help turn the eastern Mediterranean island nation into a regional shipping hub.
Chinese investment in the region is a key part of China's Belt and Road Initiative, which envisages creating the 21st century land and maritime equivalent of the Silk Road.
Since the Chinese shipping behemoth started container operations in Greece in 2009, traffic has surged at Piraeus, making the harbor one of the fastest-growing ports in the world.