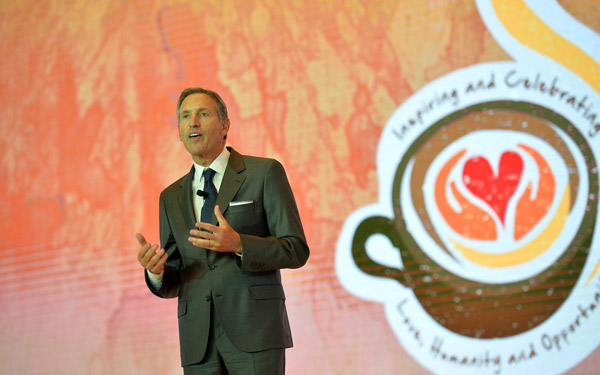 Howard Schultz, chairman, president and CEO of the US-based global coffee chain Starbucks Corp, speaking at a local dealership meeting in Chengdu, Sichuan province on Jan 12. [Photo/China Daily]
Rising middle class boosts US company's confidence in China
Seventeen years ago, when Starbucks Corp opened its first store in Beijing, the idea was flayed by many as they felt that coffee did not have a chance in a tea-drinking nation like China.
"That has all changed. We now have 2,000 stores in 90 Chinese cities and the country is probably the largest international market for us, even larger than the United States," said Howard Schultz, chairman, president and chief executive officer of the US-based global coffee chain Starbucks Corp.
Despite the economic challenges, China has a brilliant future, said Schultz. "I am not saying this just because the middle class population in the country is doubling from 300 million to 600 million. It also has a lot to do with the humane nature of Chinese people and their penchant for hard work. I have seen for myself what can happen when a young Chinese person puts on a green apron," he said.
Schultz recently spoke to China Daily about Starbucks' company culture, its local business strategies and the secret to its success. The following are edited excerpts.
Starbucks sales in China and Asia Pacific market increased 9 percent in 2015 compared with the previous year. What has propelled the growth and how do you plan to sustain the momentum this year?
Our success has not just been in Shanghai or Beijing, but also in the second- and third-tier cities. Starbucks has stores in more than 90 cities in China now.
I think we are now a brand that is trusted by Chinese customers. The quality of the experience and the strengths of our partners bring Starbucks to life.
I think people are looking for a place that is rejuvenating and we have been able to give them that through our stores in the country.
Our success has also been shaped by good coffee and beautifully-designed stores. But the real reason for success is that our partners have often exceeded the expectations of customers with their warmth and caring attitude.
We plan to open 500 new stores in China this year and I think our growth prospects look robust for the time being.
Starbucks partners are often given health benefits and other incentives. Is this your way to build a business that is profitable and one that is sharing its success with the community?
Early on, Starbucks was the first employer to give stock options and additional healthcare to employees. Today, we offer additional benefits like housing subsidy and one-year leave without pay.
We had a great year in China in terms of performance and the philosophy of the company has always been to share the success.
I think we also want to demonstrate to the parents today that we understand the responsibility of taking care of their children.
As a public company, we have responsibility to create shareholder value and make profits. But we also have to bring our people along with us on the journey.