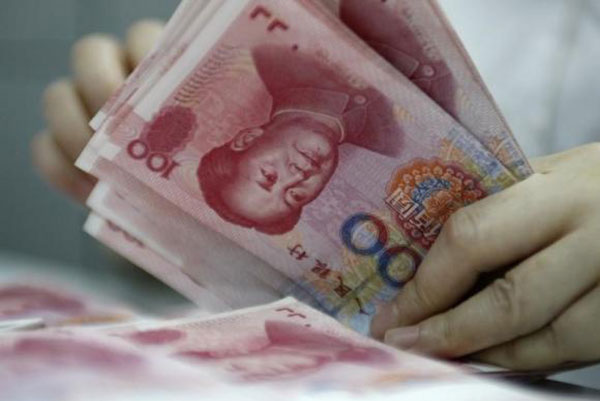 An employee counts yuan banknotes at a bank in Huaibei, Anhui province June 22, 2010.[Photo/Agencies]
The Chinese government "has no intention to boost exports by devaluing the renminbi, not to mention waging a trade war", Premier Li Keqiang told International Monetary Fund chief Christine Lagarde during a telephone call on Thursday morning.
Li also said China "is able to maintain continued, steady growth of its economy" in their conversation about the economic and financial situation in China and around the world.
Observers said Li's comments will help dismiss doubts in the market over alleged currency manipulation by China and its future economic prospects. The country's economy, which grew by 6.9 percent last year, still faces downward pressure.
"The fact is that the renminbi exchange rate has remained basically stable against a basket of currencies, and there is no basis for continuous depreciation of the renminbi," Li said.
China will "press steadily ahead with the reform of mechanism to formulate the yuan exchange rate", reinforce its communication with the market and keep the yuan exchange rate basically stable at an appropriate and balanced level, Li added.
Lagarde said she believed the Chinese government could maintain steady economic growth through measures such as structural reform, keeping the exchange rate policy stable and boosting communication with the market.
The IMF is willing to further strengthen communication and cooperation with China, she added.
Addressing a panel discussion in Davos, Switzerland, last week, Lagarde said China's policymakers have shown "unbelievable determination" to deliver reforms in the past, Bloomberg reported.
Chen Fengying, a senior world economy researcher at the China Institute of Contemporary International Relations, said Lagarde and the IMF are important channels for China to send signals to the world market in such a critical time.
"As uncertainties cloud the market, Li has stated China's confidence in the economy and currency. Without such remarks, the stock and currency markets' confidence could be more vulnerable," Chen said.