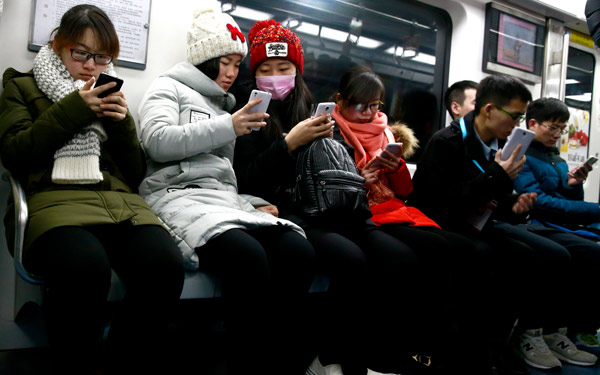 Young people checking smartphones in a subway train in Beijing. The number of smartphones is expected to reach 700 million by the end of this year in China.[Photo/China Daily]
When my son left Beijing for France for his master's degree program in early September, I thought I could no longer maintain frequent contact with him for the next two years, as international calls were always too costly.
It turned out that I was wrong, and I was happy to be wrong. Less than one month after he settled down there, we found he could give us a call at any time he wanted. He bought a package from a local telecom carrier that allows him unlimited calls, for less than 20 euros ($22) a month.
But although he could easily reach us, we would still have second thoughts about calling him, as international calls to France could still cost us a fortune. A similar-costing package offered by China Mobile Ltd only allows me several hundred minutes of local calls, not even long-distance between Chinese cities, let alone international calls.
As a subscriber to China Mobile, I would have to pay at least 8 yuan ($1.2) per minute if I chat with my son on the phone. To any wage-earners like me, this is too heavy a financial burden to bear.
According to China Mobile's charging standard for international calls to some countries, including the United States, United Kingdom, France and Germany, regular costs are 0.8 yuan per six seconds.
So I bet most users would stand by my side if I say the costs of making international calls are too high.
Even Premier Li Keqiang has on several occasions urged the big three telecom carriers-China Mobile, China United Network Communications Group Co Ltd and China Telecommunications Corp-to provide lower charges and faster Internet access in order to stimulate spending on information technology-related services, with telecom services being one of them.
With the call from the top leadership, users began to dream of less-costly telecom services. But the reality failed to match our expectations.
At a meeting of the Ministry of Industry and Information Technology onDec 24, Minister Miao Wei proudly announced that average fees for fixed-line broadband and mobile data traffic dropped by 50 percent and 39 percent, respectively, beating the goals of the 30 percent reduction.
Following the "mission accomplished" statement by the country's telecom regulator, the People's Daily website conducted an online poll on this, and the findings were shocking-as many as 96 percent of the participants said they did not feel in anyway that they were paying less for the services they enjoy.
Statistics don't lie, and although the major telecom carriers are experiencing slower growth rates they are still raking in enormous revenue and profits.
As the biggest carrier in terms of user base and revenue, China Mobile's net profit amounted to 85.42 billion yuan in the first three quarters of 2015, a year-on-year growth of 3.4 percent. And by the end of the third quarter, it had 823 million subscribers.
One fact caught my attention-the accelerating downward trend in its voice services, which remain the biggest contributor to its revenue and profits. From January to September 2015, its total voice usage was 3.17 trillion minutes, marking a year-on-year drop of 1.2 percent, but the full-year decrease for 2014 was a mere 0.5 percent.
Technology and the fast-expanding mobile Internet, as well as applications, are making life easier, and eating into carriers' profits. The tech-savvy, the young in particular, are turning to mobile apps such as WeChat and Skype for interpersonal communications, which cost less or sometimes nothing.
The carriers are well aware of this trend and are adapting to the changes by prioritizing data-focused services.
For many users like me from the dinosaur age who still favor the most traditional function of phones, our concerns are growing: Could phones still be used to make calls or will they simply become a tech-driven toy?
Our hopes hinge on the carriers' resolution to cater to the needs of different users. At a time when China is trying to be on a par with international standards, if their French peers can make phone calls affordable to all, why can't they?