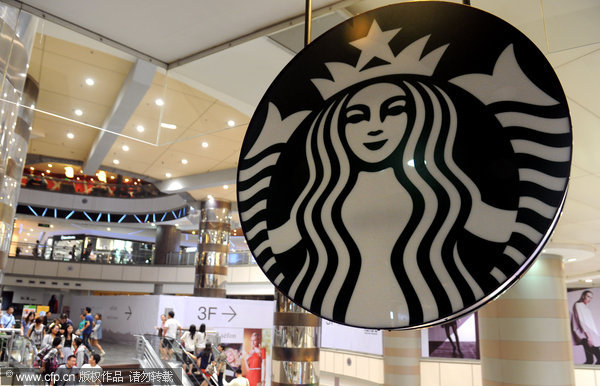 A Starbucks logo is seen at a plaza in Lujiazui district, Shanghai, Oct 23, 2013. [Photo / CFP]
Tingyi Holding Corp, a leading food and beverage producer, has inked an agreement with global coffee chain Starbucks to manufacture and distribute the latter's ready-to-drink products on the Chinese mainland.
The move is expected to help the global coffee chain expand its footprint in China, especially in lower-tier cities, where the Seattle-based company does not have much visibility.
According to Euromonitor International, a market research firm, the global RTD coffee market volume is expected to surge to 453.8 million liters by 2017, from 297.5 million liters in 2014. The RTD coffee and energy drinks category is a $6 billion business globally, and it is set to grow by 20 percent over the next three years, according to Starbucks.
Nestle SA is the current market leader in the RTD segment with a 55.5 percent market share in 2014, followed by Suntory Holdings Ltd with 14.1 percent and Uni-President Enterprises Corp at 5.9 percent. Starbucks was ranked seventh in terms of market share at only 1 percent last year.
According to the agreement, Starbucks will help Tingyi, which makes the well-known Master Kong brand of instant noodles, with coffee expertise, brand development and future product innovation. Tingyi will manufacture and sell the Starbucks RTD portfolio in China, said a statement from Starbucks.
China is Starbucks' fastest growing market outside the US with more than 1,500 stores in nearly 90 cities, and more than 25,000 employees.
Tingyi's local manufacturing, sales and distribution expertise, combined with Starbucks strong brand recognition and coffee expertise will help unlock new market opportunities, the statement said.
"We are pleased to work with Tingyi, a leader in China's RTD beverage category, to unlock the massive ready-to-drink market and grow local demand for Starbucks," said John Culver, group president, Starbucks Coffee, China and Asia Pacific, Channel Development and Emerging Brands. "Our agreement enables us to develop new categories and occasions to delight our customers and connect people outside of our stores to Starbucks where they live, work and play."