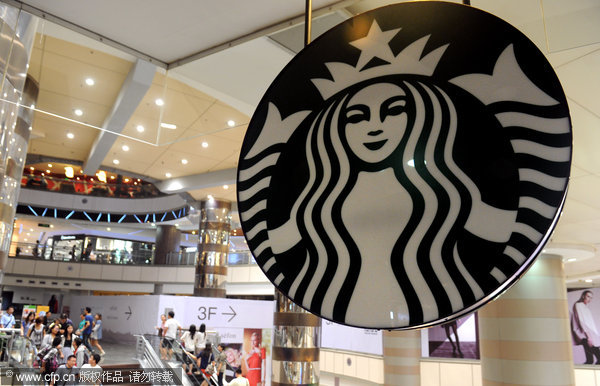 A Starbucks logo is seen at a plaza in Lujiazui district, Shanghai, Oct 23, 2013. [Photo / CFP]
The world biggest coffee chain, Starbucks Corp, plans to increase its network in China to 3,400 stores over the next five years, which could pose challenges for small, independent coffee stores, industry sources said.
The United States-based coffee chain said on Dec 4 at an investors' meeting at its headquarters that its operations in China and the Asia-Pacific region represent "enormous, immediate and high-value opportunities" for the company.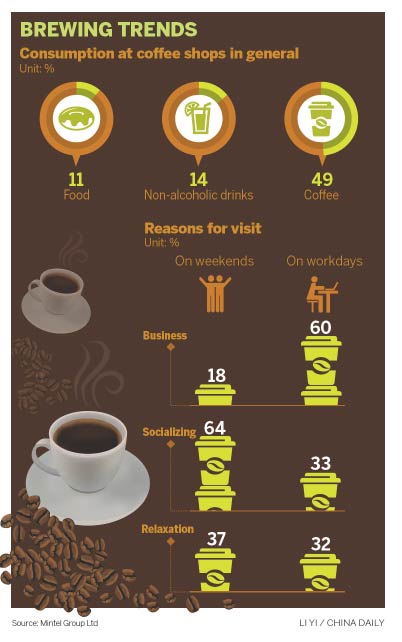 Belinda Wong, president of Starbucks China, said that the country, which is the fastest-growing market for Starbucks, already has 1,400 stores in 84 cities with more than 3 million transactions per week.
Starbucks will open 400 stores every year in the next five years around the nation. That is much faster than it has been expanding in recent years. Last year, it added 317 stores in China.
Of the 1,650 stores it plans to open in total next year, 850 will be in Asia, including China.
James Roy, associate principal of China Market Research Group, said that Starbucks' continued expansion showed that it had achieved success in China and remained profitable despite high rents and labor costs.
He said that its profitability in China per store was much higher than in the US because of strong demand and premium products. "People are basically willing to pay that price," said Roy. The company "is not only selling coffee, but also selling an experience where people come to meet people".
Esther Lau, an analyst at consultancy Mintel Group Ltd, said Starbucks' plan to accelerate its expansion in China will have an impact on small, independent coffee shops that face high turnover and difficulties in obtaining prime locations.
But she said that other coffee chains such as United Kingdom-based Costa Coffee and South Korean operators Twosome or CoffeeBene will be less affected, because they have different images and styles from Starbucks.
The battle between South Korean, US, UK and domestic coffee chains on the one hand and stylish independent cafes on the other will create a great deal of diversification in the market, said Lau.
According to Mintel, consumer sophistication and rising awareness of the benefits presented by coffee shops have allowed brands to more easily focus their efforts on creating a choice of ideal urban lifestyles alongside certain products or service innovations.
"Chinese consumers want it all," Lau said. "They want to have more options to choose from and have an exciting experience by exploring different menus when they walk into a coffee shop."
Starbucks said it will add beer, wine, and evening snacks to thousands of its cafes in the US and widen its lunch offerings and mobile ordering facilities to broaden its appeal to compete with bars and restaurants, as well as online retailers.
According to the coffee branch of the China Fruit Marketing Association, average consumption of coffee totals four cups per person per year in Chinese cities, rising to 20 cups in Beijing and Shanghai. Mintel has forecast that the value of the coffee shop market will continue to rise over the coming five years to 86.8 billion yuan ($14.16 billion) by 2019.