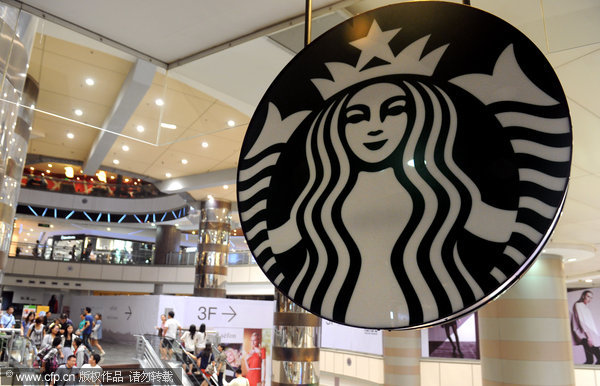 A Starbucks logo is seen at a plaza in Lujiazui district, Shanghai, Oct 23, 2013. [Photo / CFP] 
In the past week, China's media has been accusing Starbucks of "profiteering" - price gouging customers at its operations in China, where the cafe chain has been implementing a strategy of rapid expansion.
According to Loxcel.com, over the past year the number of stores has grown from 568 to 851 across 58 cities, with plans to have 1,500 cafes in 70 cities by 2015. Impressive numbers, but they account for only 4.18 percent of the chain's 20,891 stores worldwide.
The Seattle-based company is not alone in being accused of over-pricing in China. Other high-end product lines have faced similar accusations, such as triple-digit percentages for flashy cars and other luxury imports. Haagen-Dazs ice cream is also taking heat for its prices, which are three times those in other countries.
Starbucks said that it makes no more profit on a cup of coffee in China than it does anywhere else in the world. China Central Television has alleged that a 27-yuan ($4.42) Starbucks latte costs 5 yuan to make. What the real margin is may well remain a mystery, and if so, it will be just one among several mysteries surrounding the brand.
For starters, there's the name, which traces its origins to one of this writer's favorite books - Moby Dick by Herman Melville. One of the three partners (all Melville fans) who founded the coffee company in 1971 originally wanted to name the company Pequod, after the whaling ship captained by Ahab and destroyed by the white whale, a suggestion that prompted a second partner to quip: "No one's going to drink a cup of Pee-quod!"
Continuing their search for a name, the trio remained under the spell of the novel, which has a gallery of colorfully named characters: Queequeg the cannibal harpooner, Pip the cabin boy, and Ishmael the narrator, to name a few. They settled on Starbucks, the First Mate, the stark, stern conscience of mad Ahab, who speaks with the "thees" and "thines" of the Quaker he is. But what he has to do with coffee is anyone's guess.
In a footnote to a recent edition of Moby Dick, the editors call it "a triumph of modern marketing" that "the name of the ascetic Starbuck has become associated with exotic coffees and voluptuous additives, as well as baked goods that shame the nautical 'duff' or hardtack of Melville's whale ships".
Another mystery is why this brew, which to some palates tastes like a cigar has just been put out in it, caught on like it did. So strong is it that many choose to dress it up with flavors and foam and any number of bells and whistles. So many and varied are the options, that stopping for a cup of coffee has turned into a shopping ritual crammed with decisions to be made - a phenomenon that some people actually like. Add a trendy Wi-Fi atmosphere, and a new lifestyle experience was born.
Then there's the riddle of the serving size names: "Tall" is small; "Grande" (Italian for large) is medium; and "Venti" (Italian for 20) is large (a 24-ounce serving).
Finally, the bewildering prices are just one more enigma. Starbucks certainly did not become the world's largest coffee chain by undercutting the competition. Rather it has been providing rivals with a lesson in what-the-market-will-bear retail pricing.
China's CCTV fumed over the fact that a grande latte in Beijing cost $4.42, with the same serving costing $3.97 in London, $3.26 in Chicago and a mere $2.39 in Mumbai.
Starbucks said its higher prices are the result of the higher prices of food and logistics in China. In a statement responding to the furor, Starbucks said, "Each Starbucks market is unique and has different operating costs, so it would be inaccurate to draw conclusions about one market based on the prices in a different market."
CNN Money suggested that the higher price might reflect the way Chinese use Starbucks compared to other nations. In Western markets, buyers usually get their coffee to go. In China, customers like to linger and hang out, which means providing bigger stores with more places to sit - and more overheads.
"In China, it's a different positioning and a different proposition," one analyst told Indian food website cooks.ndtv.com. "They invest more in making these stores themselves more premium options and making more of the environments as well."
The controversy has lit up Sina Weibo. "The prices of housing, cars and gasoline, Internet services, and taxes, in China are all higher than in other countries. Why can't Starbucks be more expensive, too," quipped one user.
Amy Li, a blogger for the South China Morning Post, perhaps sums it up best: "My advice for grumpy Chinese coffee drinkers? If you don't like the price then don't buy it."