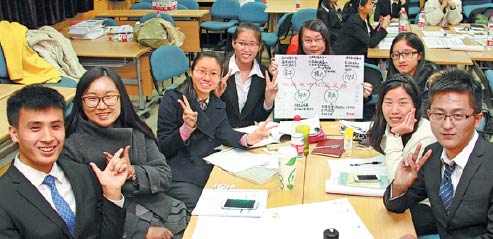 Students from Peking University and University of Science and Technology of Beijing attend a recent Youth Leadership Development Program, funded by the Starbucks Foundation.[Provided to China Daily]
A successful modern business plan often depends on how well it serves the public and the community, according to Li Lin, a student at University of Technology and Science of Beijing, who was a first-round winner in the recently held Youth Leadership Development Program-a three-year project with $3 million in funding from the Starbucks Foundation.
Li and his two teammates designed a discount information sharing platform offering consumers the most updated promotional information from nearby supermarkets.
The platform, he said, can serve as a bridge between retailers and consumers to offer the very latest bargains and can even arrange ultra-quick deliveries.
Shi Dongwei, vice-president of public affairs at Starbucks China, said more than 200 million young people in China are now faced with a rapidly growing society that is generating more opportunities and challenges than ever before. "We are glad to take this role in fostering the growth and success of young people, and provide a program that has positive effects on the wider Chinese community," he said.
The project is being jointly run with the China Soong Ching Ling Foundation, which will help gather leading experts in areas such as youth development, academia and business to create a curriculum that combines business acumen, collaborative communications and social consciousness.
Through the program, students will build their skills and be offered mentoring opportunities with senior Starbucks executives.
After participating in it they can choose to apply for training courses under the Starbucks China University, or working internships with Starbucks itself.
The program is expected to attract 1,500 university students from across China, including those from disadvantaged backgrounds, over the next three years.
Jing Dunquan, vice-chairman of CSCLF, said: "We are pleased to expand our partnership with the Starbucks Foundation to continue to foster the young leaders of the future in China who have demonstrated a passion and commitment to serving society.
"The foundation's investment will directly develop locally relevant education and mentoring programs for university students, which in turn will help build leadership skills in communities right across China."
Since 2006, the Starbucks Foundation and CSCLF have worked together on addressing various needs in China-from providing 3,000 rural teachers with innovative teaching methods, to helping 1,200 aspiring teachers with college scholarships, to supporting over 900 environmental conservation projects run by university students.
Each team taking part in the Youth Leadership program received initial funding of 1,000 yuan ($161.3) with a final 30 teams of 150 students from 10 participating universities in five cities receiving a further 4,000 yuan to implement their own projects.
Li Lin's tutor, named Yu, said entrepreneurial students often find it hard to find the right platforms to get their ideas off the ground.
The program, emphasizing charity and philanthropy, not only helps students learn how to design and carry out a working business plan, but also teaches them a strong sense of social responsibility.
"Our generation has grown up being showered with success stories of how to build business empires similar to those launched by Robin Li or Jack Ma," said Li.