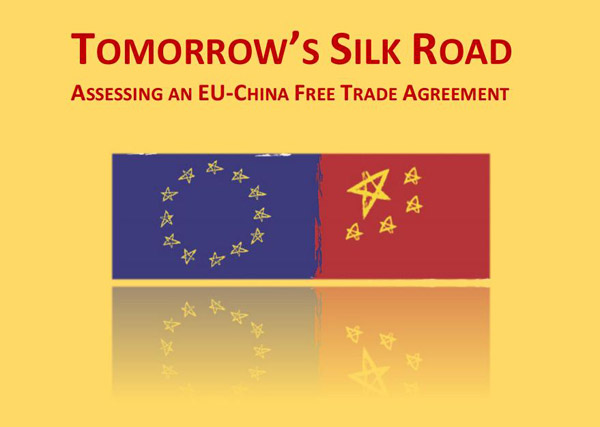 There are a host of reasons for Brussels and Beijing to seek a "deep and comprehensive" free trade agreement (FTA), a leading European think-tank has concluded.
Brussels-based Centre for European Policy Studies announced its findings in Tomorrow's Silk Road: Assessing an EU-China Free Trade Agreement, which appears on its website on Wednesday.
The book is the result of a study which was carried out by CEPS in cooperation with the World Trade Institute (WTI) at the University of Bern.
Jacques Pelkmans, CEPS Senior Research Fellow, served as overall leader of the study, intended to guide European institutions in deciding whether to kick off free-trade agreement talks with China.
On the Chinese side, the China Institute of Reform and Development is doing a similar study. The two think-tanks are planning to organize a seminar to share their study outcomes on 16th June in Brussels, China Daily has learned.
"Though fascinating as an idea, until only two years ago it seemed far-fetched to pursue liberalized trade and investment between China and the EU in the form of a modern, deep and comprehensive free trade area," according to the CEPS study.
Fredrik Erixon,Director of the European Centre for International Political Economy in Brussels, said that the logic of an FTA is that both economies are large and that a high-quality free trade agreement would unleash gains to productivity and economic growth that would be sizeable.
"For such gains to be unlocked by an FTA, both sides have to be prepared to cut behind-the-border barriers and do away with a lot of regulatory protectionism," said Erixon.
But Erixon said it is unrealistic to believe that FTA talks between China and the EU will kick off this year, or indeed in the next two years.
"The timetable would, first, be to complete the Bilateral Investment Treaty (BIT) negotiations and get them ratified. Then there would have to be a long soul-searching in Europe whether it actually wants such an agreement - or if it thinks Europe would be steamrollered by Chinese competition if there is an FTA," said Erixon.
At the 15th EU-China summit held on 20 September 2012, China and the EU agreed to launch negotiations on a bilateral investment agreement.
The idea of a free trade agreement was pushed up the agenda when President Xi Jinping, in the spring of 2014, publicly called on the EU to jointly explore it.
Since then, the EU has slowly become accustomed to what in Brussels is still regarded as a very ambitious concept, the book says.
The EU-China summit joint statement issued on 29 June 2015 declared that, once the conditions were right, concluding a comprehensive EU-China investment agreement would lead towards a deep and comprehensive FTA in the long term.