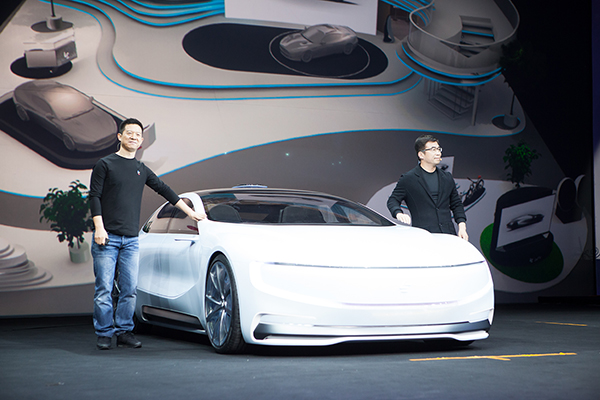 Jia Yueting(left), CEO of LeEco, and Ding Lei, LeSEE co-founder and global vice president, pose a picture with the company's first full-electronic automobile--LeSEE on April 20, 2016 during a product launch event held in Beijing. [Photo provided to chinadaily.com.cn]
A Chinese smartphone vendor stands out from the industry by inventing a dual function Type-C jack available for charging and lossless audio output.
Chinese internet company LeEco Holdings Ltd held a "cross-category" product launch on Wednesday, showcasing new devices, including the Le 2 smartphone series, super television, Le VR and a self-driving electric vehicle that sweep across four different industries.
While continuing most first generation's features, the second-generation series, named Le 2, Le 2Pro and Le Max2, will be shipped without the 3.5mm earphone jacks, which are normally designed on the top or the bottom side of a phone.
By jointly using the Type-C charging jack, the phones are able to provide a digital lossless audio experience through specifically-designed Type-C headphones for users.
The company also set up an industrial standard in the audio sector, the continual digital lossless audio standard.
Chinese musician Wang Feng announced that his new audio equipment startup, Fiil, will adopt the standard and release LeEco customized Type-C headphones.
"Launching four smart device products across four industries at the same time is something that no other company in the world has ever tried," said Jia Yueting, founder and CEO of LeEco. "This looks like a crazy thing to do, but it is actually part of our mission to build an ecosystem world."
Jia claimed that the "ecosystem model", which is known in the industry as the icon of LeEco, is a series of models that include business and marketing models, as well as technological and product innovations.
He predicted that the world will move into a new era of ecosystem technology or ET, when different industries are eager to break boundaries and achieve mutual benefits in a variety of platforms, content, hardware and software R&D process.
In addition to smartphones, another highlight of the event was the debut of LeSEE -- LeEco's first self-driving concept automobile.
According to Ding Lei, LeSEE co-founder and global vice president, the car, with an ultra-size LED display on the front to display vehicle status, can drive and learn autonomously with extensive novel functions. These include facial recognition, emotion recognition, environment recognition and road recognition.
"We have received 833 patents worldwide for building the car," said Ding.
During the event, Jia Yueting and Ding Lei also demonstrated the self-driving function of the LeSEE concept car, using a LePhone to control the car remotely.
Ding Lei disclosed that the concept car will be showcased at the Beijing-based autoshow -- Auto China 2016 starts Monday.
The company did not say when the car will start mass production, and the price is also unknown. Jia indicated that similar to other LeEco products' pricing strategies, R&D cost will be subsidized by profits from video entertainment content and connected-car system development.
A self-made head-mounted virtual reality display and a drone also were seen during the event, but details, such as launch date, prices or functions, weren't disclosed.
According to the company, LeEco's event was broadcast live on nearly 100 online video sites and became the world's first product launch live-streamed on Facebook, which just launched its live video application program interface last week.