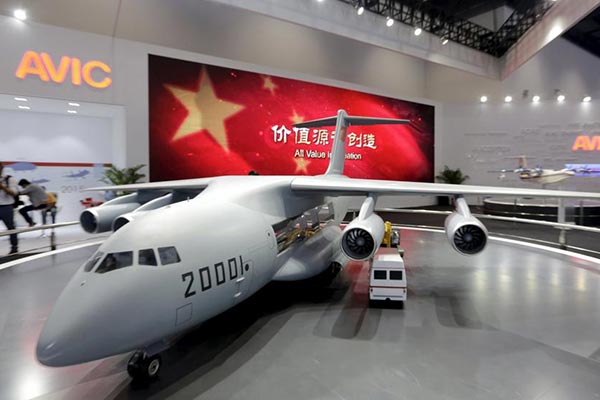 A model of Y-20 military transporter aircraft is displayed at Aviation Industry Corporation of China (AVIC)'s booth at the Aviation Expo China 2015, in Beijing, September 16, 2015. [Photo/Agencies]
BARCELONA - The Aviation Industry Corporation of China (AVIC) has acquired 95 percent of Spanish company Aritex, the Chinese State-owned enterprise said Wednesday.
During a ceremony held in the northeastern Spanish city of Barcelona, Aritex said the acquisition was completed thanks to cooperation between the two companies.
"We opened a new period of challenges and opportunities in this company ... We want Aritex to be a leading provider at a world level," said Aritex General Manager David Lopez, who got the remaining 5 percent of the Spanish firm.
Established in 1981 as a supplier of industrial products for the automobile sector, Aritex diversified its activity to the aerospace sector in 2001.
Aritex will focus on research technologies and add new companies to the value chain, Lopez said, noting that this was a win-win relationship highlighting strong commitment to bringing best technology for costumers.
Describing Aritex as one of the most important producers in Europe, AVIC Chairman Wu Guangquan said that after the acquisition, his company expects to be part of the global industry at a higher level.
Meanwhile, Chinese Ambassador to Spain Lu Fan congratulated both companies on their agreement, saying this acquisition set a good example for cooperation between China and Spain.