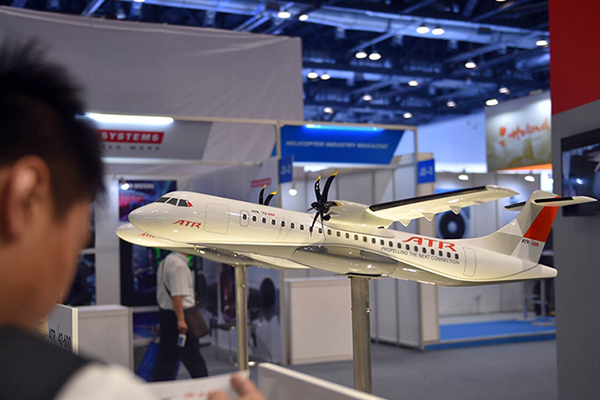 A visitor studies a model of airplane manufactured by ATR at the ongoing 16th edition of Beijing International Aviation Expo in Beijing, the capital of China on Sept 16, 2015. [Photo/Chinanews.com]
China will likely see a demand of 2,300 business jets over the next five years, sending the market scale to $103.5 billion, said Minsheng Financial Leasing and Hurun Research Institute in a joint report.
Such forecasts come despite the ground reality that only 300 business jets operate in the country against a total of 1,420 affordable buyers.
"Business aviation in China has enormous potential," said Rupert Hoogewerf, chairman of Hurun Report, a study targeted at Asia's high net-worth individuals, adding that the market demand will increase from 1,750 to 2,300 over the next five years.
Major reasons hindering the purchase include difficulties to locate flight plan approval and landing rights, and being caught under the spotlight amid the anti-corruption drive, according to the 2016 China Business Aviation Special Report.
Among Chinese business jet buyers, time efficiency and sense of independence are factors they value most, added the report.
"China's business jet market is growing steadily," said Jean-Michel Jacod, CEO of aviation company Dassault Falcon.
The bullish view also comes as Huren Institute estimates China to have 970 dollar billionaires and 5,600 individuals with net worth over $300 million. The number of billionaires who can afford an average $45 million jet will likely reach 1,850 by the year 2021.