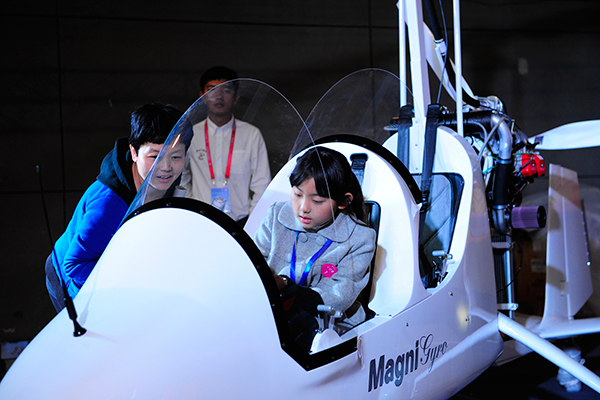 Private pilots are expected to be in high demand in China as the government plans to further open up low-altitude airspace. [Photo provided to China Daily]
With China's plans to open up low-altitude airspace ready for takeoff, the general aviation sector is making a promising contribution to the country's lofty goal to add 10 million new jobs each year.
Looking to help cultivate the country's first generation of private pilots, the Yuying Vocation School in eastern Zhejiang province is recruiting students for a three-year helicopter training course. It enrolls up to 30 high school graduates. The course costs 56,400 yuan ($8,600) for three years. The school says graduates can expect an annual salary of more than $30,000 in return.
"We believe there's a remarkable market ahead. Our students won't need to worry about a job once they get the license," said Zhang Shengqiang from Yuying's recruitment office.
Private pilots are expected to be in high demand in China as the government plans to further open up low-altitude airspace.
Under the current regulations, private aircraft have to go through complex procedures to get permission from China's aviation authorities before they can fly in airspace below 1,000 meters.
Expansion of private aviation is expected to contribute towards the country's ambitious plan to create more than 10 million urban jobs in 2016 and 50 million over the next five years.
Industrial sources estimate that 2,000 to 3,000 new pilots will be needed every year in the next five to 10 years.
Excluding public services, such as medical transport or firefighting, private flying is expected to create a market worth more than 1 trillion yuan.
The sector is expected to create more than one million jobs, from pilots to maintenance and ground crew, when fully developed, according to Tong Gang of Shenyang Aerospace University.
Jobs will also be created in general aviation aircraft manufacturing as well as airport construction and management, which is currently at a very early stage of development in China.
"With the same amount of investment needed to create one job in the traditional sectors, 12 jobs could arise from the general aviation industry," said Tong.
By 2015, there were 239 companies in the general aviation industry in China with 13,000 employees and 1,600 aircraft.
Already, Chinese companies are looking to cash in on the future potential.
In 2015, ride-hailing service Didi offered a two-day trial program that allowed the public to hail helicopters, attracting over 10,000 requests for 100 rides.