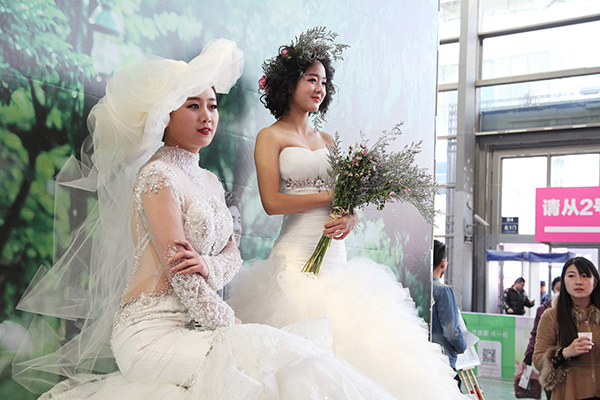 Two models in gowns greet visitors during the 17th Xi'an Spring Wedding Expo. The event took place in Xi'an, Shaanxi province, on March 12 and 13. [Photo provided to China Daily]
The aisle is covered with a black fishing net, the flowers are bloody red. The bride at this medieval and gothic themed wedding is wearing a black-and-red gown, jewelry and a crown with an image of aging woods and skeletons dotting a lawn.
"This young couple likes the rock'n'roll style and they wanted to be cool," said Yu Zheng, partner of Loveinwed Co Ltd, an emerging leader in medium to high-end personalized wedding planner in Beijing that organized the wedding.
She is a veteran of sorts in the wedding industry, which she entered a decade ago. Yu said young Chinese couples, particularly those born after the 1990s, have acute requests to have their weddings personalized with their individual styles. They crave "to be different".
Loveinwed has organized about 300 personalized weddings last year. In contrast, regular wedding planners organize 3,000 every year, said Yu.