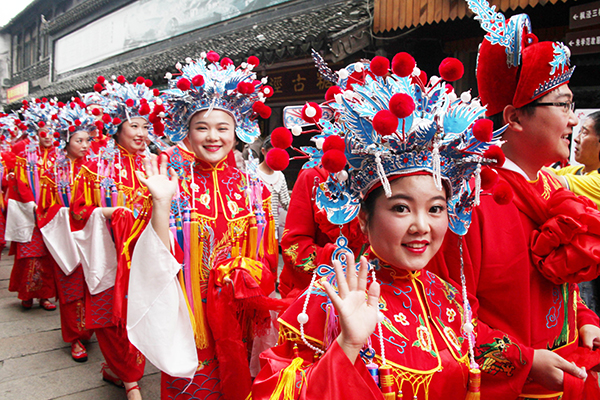 Brides at a mass Chinese wedding ceremony in Fengjing township in Jinshan district of Shanghai. [Photo provided to China Daily]
A typical wedding organized by Loveinwed could entail a bill of 50,000 yuan but "it is hard to give an exact number", said Yu. Consumption reflects the personal taste, style and desires of the new couple, she said.
The craze for something unique has its root in the lack of religious elements in Chinese weddings. Religion, in the form of vows, plays an essential part in weddings in the West, said Yu. In China, however, stress is on ceremony and celebration.
"Without personalized or individual elements, weddings in China would tend to become a routine where guests show up, hand over their gift cash, eat and chat," she said.
So, wedding venues offer exclusivity and sport a character. Five years ago, five-star hotels or top restaurants were in demand. Now, people are interested in having weddings at private locations or clubs. "They dislike the idea of their wedding being held at the same time as three other weddings at the same hotel," said Yu.
"Wedding is no longer a lavish banquet to host even people you are not familiar with," she said. "Matrimony-bound couples and their families want to make sure true love could be shared with guests who matter."