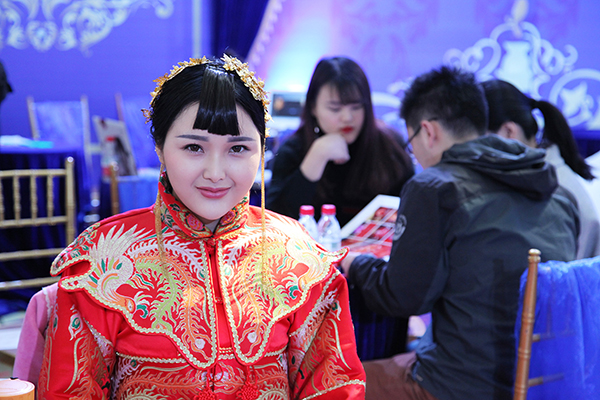 A model shows off a traditional Chinese wedding dress at the 17th Xi'an Spring Wedding Expo. [Photo provided to China Daily]
Zhang Yingjian, a researcher from the ASKCI Consulting Co Ltd, said economic slowdown and the government's austerity campaign had but a minor impact on the wedding-related consumption. Be it property market, automobiles, home renovation, decoration, jewelry, banquets, luxury products or honeymoon trips, every segment suffered a bit, but not much.
In 2015, about 12.13 million well-to-do couples entered wedlock, spending 76,000 yuan ($12,000) per wedding. Stated differently, China's wedding services market was worth more than 900 billion yuan.
Cai Ling, who researches China's culture industry for CIConsulting, said last year, the country's wedding industry's worth may well have exceeded 1 trillion yuan. China's 2015 GDP was 67.7 trillion yuan.
"The economic slowdown only had a minor impact on industries that benefit from wedding-related consumption. With their incomes rising in recent years, people are willing to spend on celebrations," said Cai.
Wedding-related services now span a wide range. Whole new value chains have sprung up, offering innovation and personalization in products and services.
Why, these days, wedding banquets with custom liquors and wedding financing services are not uncommon, he said.