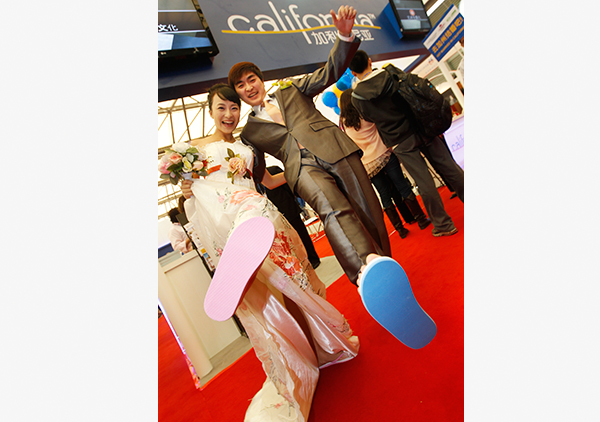 At a Shanghai travel agency, a newly-married couple celebrate the start of their honeymoon travel to the United States.[Photo provided to China Daily]
New-age weddings have also spawned specialist services offered by photographers, fashion designers, interior designers-talents hitherto busy in the entertainment industry. "Their work gives wedding services a professional touch," said Yu.
So much so that many wedding planning agencies have been promoting the idea of night-time wedding in the Northern China market, dispelling a traditional belief that only second-timers wed post sunset. The custom of noon time weddings in North China is thus slowly giving way to the concept of a dreamy night wedding, thanks to the spin of wedding planners seeking to have extended business.
That trend is spreading. The small wedding of Xu Zhen and her man surprised their friends as it was held at night at a leading club in Beijing.
It even had a theme-of color clash. Purple, green and coffee collided, to reflect the newly-weds' clashing personalities: Xu the bubbly marketing whiz "clashing" with the stern-and-serious banker.
"We wanted our friends to relax through the day and come here at night just to enjoy a party," said Xu, 30. "The lighting and fireworks at night created a comforting and friendly environment. My husband and I first met at a friend's wedding. We wanted our wedding to offer similar opportunities to our single friends."