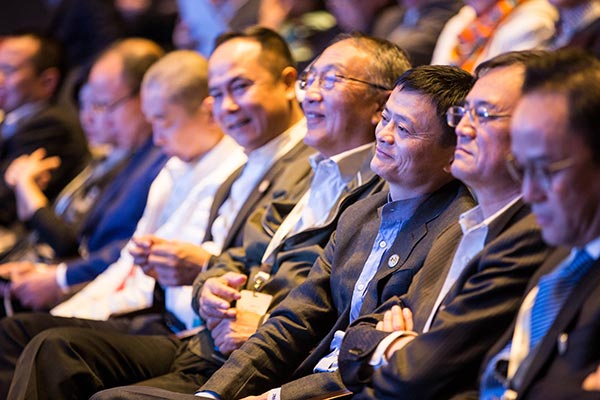 Jack Ma (third from right), executive chairman of Alibaba Group Holding Ltd, seen among Chinese tech millionaires during the opening ceremony of an academic symposium in Hangzhou, Zhejiang province.XU KANGPING / FOR CHINA DAILY
Wang Feng is the kind of successful tech entrepreneur whom private wealth bankers from Goldman Sachs to Credit Suisse would love to land as a client. He's chairman of Beijing-based Linekong Interactive Group, a Chinese mobile and online game developer valued at about $194 million-and Wang, 46, owns a 20 percent stake.
What's more, five years ago, Wang co-founded Geek Founders Capital, which has since raised 300 million yuan ($46 million) in three financing rounds and invested in more than 60 companies. Last year he and a partner, Zhang Xiaowei, a former Huawei Technologies executive, raised $60 million from venture capitalists to launch a home-console game company to take on the likes of Microsoft's Xbox and Sony's PlayStation in China.
"Fast technological innovations have created waves of opportunities," said Wang, whose rectangular black glasses, slim build, and red sweater seem inspired by the hipsters of Silicon Valley. "As long as you're smart, you're going to make money."
And if you're going to make money, you need to do something with it. The rise of Wang and others who've built fortunes in technology reflect how China's great wealth machine is changing, Bloomberg Markets magazine reports in its forthcoming issue.
This expanding group of high-net-worth individuals-people who have investable assets of more than $1 million excluding property-presents both an opportunity and a monumental challenge for global banks such as Morgan Stanley, UBS, and Credit Suisse that are seeking to make inroads into the country's deep wealth-management market.
True, China's economic slowdown and stock market turmoil this year have spooked global investors. And there are signs the white-hot venture capital enthusiasm for Chinese tech startups is cooling over valuation worries. However, private bankers with a longer time horizon still eye the country with boundless optimism.