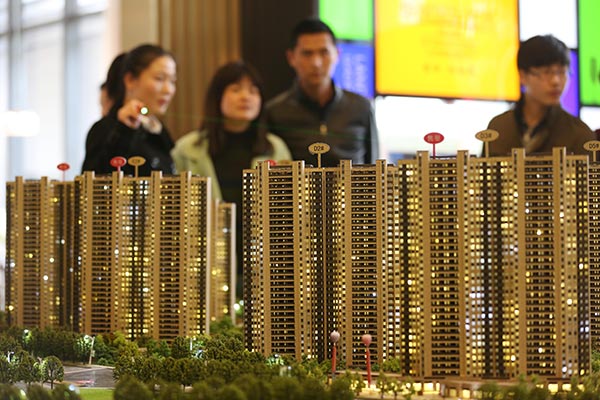 Potential homebuyers examine a property project model in Nanjing, East China's Jiangsu province, Feb 28, 2016.[Photo/VCG]
BEIJING - China's property market continued to show signs of recovery in March, with most of the surveyed major cities reporting month-on-month rises in new home prices.
Of 70 large and medium-sized cities surveyed in March, 62 saw new home prices increase month on month, up from 47 the previous month, the National Bureau of Statistics (NBS) said Monday.
Meanwhile, eight cities reported month-on-month declines, down from 15 in February, according to NBS data.
On a yearly basis, 40 cities posted new-home price increases and 29 reported falls in March, compared with 32 and 37 in February.
New-home prices soared 62.5 percent year on year in the southern city of Shenzhen, the sharpest increase last month among all the major cities, followed by Shanghai, Nanjing and Beijing, where prices surged 30.5 percent, 17.8 percent and 17.6 percent year on year, respectively.
The northeastern city of Dandong registered the steepest price decline of 3.8 percent over the previous year.
Prices for existing homes also continued to pick up in March, with 54 cities reporting higher month-on-month prices and 13 reporting lower prices.
The property sector has been a significant supporting force for China's economic growth.
Prolonged weakness in this sector and growth deceleration in property investment are believed to be a major risk to the Chinese economy and the main factors behind the overall sluggish demand.
China's housing market started to recover in the second half of 2015 after cooling for more than a year, boosted by government support measures, including interest rate cuts and lower deposit requirements.
In February, taxes on some property transactions were slashed and further reductions to the minimum downpayments for eligible first- and second-time home buyers were announced.
"Although China's metropolises reported sharp price increases, markets in many smaller cities remained stable," said Liu Jianwei, a senior NBS statistician .
The weakness in lower-tier cities was mainly caused by the persistent supply glut after substantial investment over the years following the 2008 global financial crisis.
There was about 735.2 million square meters of finished but unsold properties across China at the end of March, down some 4.2 million square meters from the end of February, according to the NBS.
On an annual basis, however, the inventory was still 13.1 percent higher than the same period in 2015.
China included property inventory reduction as one of its five priorities for 2016.
Related story: Property market rebounds but housing stocks flat by Zheng Yangpeng from China Daily  
China's property sector staged a revival in March, with real estate investment, sales, housing new starts and funding all rebounding strongly.
Real estate investment, which accounted for a fifth of total investment, in the first quarter expanded 6.2 percent from a year earlier, up from 3 percent in the first two months and 1 percent in 2015, according to the National Bureau of Statistics.
Housing sales, which often preludes investment, surged 54.1 percent from a year earlier, up from 43.6 percent in the first two months, while in volume terms sales rose 33.1 percent.
For the first time in months, unsold residential space dropped by 6.52 million square meters from the end of February, showing progress in destocking.
The upsurge in sales also drove up developers' construction appetite, with housing new starts surging 19.2 percent, up from 13.7 percent in the first two months.
The acceleration was backed up by funding.
People's Bank of China's data on Friday showed outstanding loans to developers rose 15.4 percent from a year earlier, while household mortgages surged 25.5 percent, a growth rate that has been steadily rising since last May, reflecting warmup in housing demand.
Economists are not convinced, however, the rally will continue.
Figures from Bloomberg Intelligence Economics show China has been building about 10 million new apartments a year for the last five years, with fundamental demand running at less than 8 million units a year.
Against that backdrop, any rebound in construction appears set to be short-lived, it said.
Su Aik Lim, a property market analyst with Fitch Ratings Inc, said the strong upswing in the first quarter is partly due to the low comparison base a year earlier.
Oversupply remains a major drag, indicating it is hard for investment to rebound to double-digit territory. But it is also unlikely that investment will dive further.
Housing stocks in the domestic A-share market were largely flat on Friday despite the property revival in the first quarter, with no property stocks rising to the daily limit of 10 percent.