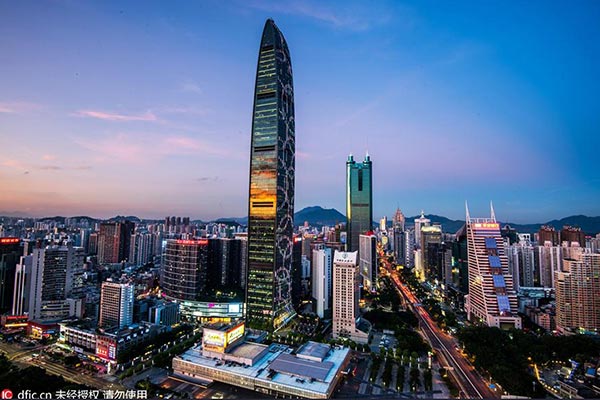 A view of Shenzhen's landmark skyscraper Kingkey 100, June 16, 2015. [Photo/IC]
Planning to buy an apartment in Shenzhen? Here's some news that might make you think twice: You would need as much as 27.7 years of household income to buy an apartment there, according to E-house China R&D Institute.
This puts Shenzhen on top of the list as the country's least affordable market.
Nationwide among 35 major cities, a family has to save for 10.2 years before they could buy an apartment, said the real estate provider citing 2015 statistics.
China's income growth failed to outrun booming property sector in 2015, as per capita disposable income grew 8.2 percent, down from 9 percent a year ago, while newly built housing saw a 9.1 percent surge in price, according to the report.
"For fresh graduates, chances are slim that they could afford an apartment in Shenzhen on their own," a real estate employee Zhang told China Business News, adding that most second-hand flats in the city cost more than 50,000 yuan ($7,707) per square meter.
Scholars have voiced concerns on possible "crowding-out effect", a fear that staggering property price could drive young talents away.
As of last month, the number of cities with average home price above 10,000 yuan per square meter rose to 26 from 20, according to Beijing-based consultancy company Biaozhunpaiming.
The report expects home price in first-tier cities and some second-tier cities such as Hangzhou, Zhengzhou as well as Hefei to rise further this year.