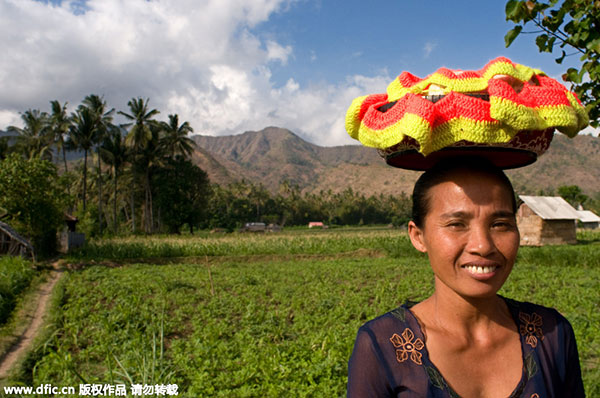 A woman next to fields near a fishing village in East Bali, Indonesia, Jan 13, 2015. [Photo/IC]
Truck Alliance, a startup dedicated to helping match empty trucks with loads, plans to expand into the Southeast Asian market after it raised more than $100 million from investors including Tencent Holdings Ltd and venture capital powerhouse Hillhouse Capital.
Like Uber Technologies Inc, which enables passengers to hail an empty car in an instant, Truck Alliance allows shippers to post load information on its mobile application and connect them with truck drivers, so as to reduce a truck's empty miles and waiting time between loads.
Currently, the company is serving about 2 million truck drivers and more than 300,000 shippers on its platform. Every month, about 200,000 new truck drivers join in, according to the Guiyang, Guizhou-based company.
"We are aiming to expand into Vietnam, Thailand and Myanmar, where railways are in shortage and local residents chiefly rely on highways and roads for long-distance shipping," said Dai Wenjian, CEO of Truck Alliance.
The company will launch Vietnamese-language, Thai-language and Myanmar-language versions of its smartphone app on June 12, when the China-South Asia Expo is to be held in Yunnan province.
As part of its broad efforts to go global, Truck Alliance will also establish a research and development center in the United States next month, to focus on the industrial design of new energy trucks.
"Electric trucks will be the future of short-term shipping. We are raising money for the project," Dai said, declining to give more details.
The expansion plan came after Premier Li Keqiang last month praised the firm for "leveraging cutting-edge technologies such as big data and the internet of things to serve people".
But with a presence in more than 300 cities across China, the 9-year-old company is not a one-of-its-kind mobile app. Industry sources have said that last year investments flooded into the infant truck-hailing sector and spawned many rival startups. But as venture capital firms became more cautious, most of them died out.
Cai Jin, vice-chairman of the China Federation of Logistics and Purchasing, said: "It is an easy job to bridge the information gap between supply and demand. The key and the most difficult part lies in how to build trust between drivers and shippers, and establish a mechanism to keep track of goods during the whole process."
Truck Alliance CEO Dai said that in his company more than 2,000 of its 3,000 employees are tasked with checking the credibility of shippers and the firm would compensate truck drivers with at least 500 yuan ($76) if shippers on its platform fail to deliver on their promises.
Zhang Xu, an analyst with internet consultancy Analysys International, said in China more than 90 percent of truck drivers are self-employed and each driver is in essence a small enterprise.
"Compared with Uber that is targeting consumers, the truck-hailing market is in fact serving enterprises, which are slower to embrace new things. Also, it will be more difficult for companies like Truck Alliances to scale up, given that the enterprise market is often dominated by traditional businesses."