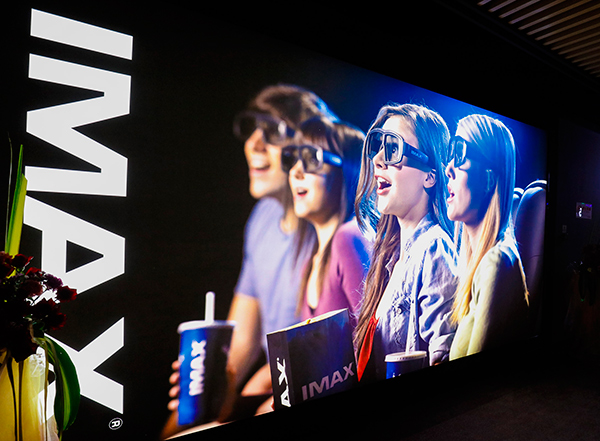 An advertisement at a Wanda cinema in Nanchang, Jiangxi province. [Shi Guofeng/For China Daily]

Firm to take 100% share in owner of movie blockbuster maker Legendary Entertainment
Wanda Cinema Line Co, China's biggest cinema chain and a subsidiary of privately owned property giant Dalian Wanda Group Co Ltd, is seeking to acquire a 100 percent stake in Wanda Media, the owner of movie blockbuster maker Legendary Entertainment.
The company said in a statement on Sunday it will spend 37.2 billion yuan ($5.67 billion) on the acquisition.
The Shenzhen-listed Wanda Cinema saw its shares surge by the 10 percent daily limit on Monday, and closed at 88.33 yuan per share, right after it resumed trading. It was its first day of trading after the shares were suspended in late February following plans for a reorganization.
Before the trading halt, Wanda Cinema was valued at 94.3 billion yuan. After the acquisition, its value is expected to reach 130 billion yuan, making it the biggest A-share media stock, replacing Beijing-based tech firm Leshi Internet Information and Technology Corp.
Founded in 2011, Wanda's cinema unit is already the country's largest cinema chain with nearly 2,000 screens, while the film production and distribution operation has been taking increased market share, despite it being a relatively new company.
Liu Cuiping, research director at EntGroup, said the acquisition is further evidence that Wanda is looking to become a major player in the entertainment industry comparable to those in Hollywood.
"The company already has a mature business in every part of the industry chain, but Wanda also has a lot of big competitors in China, such as China Film Group Corp," she said.
Wanda Cinema also plans to raise as much as 8 billion yuan through a private placement. The funds will be used for future cinema construction and boost the company's liquidity.
Currently, Wanda Cinema's main business focuses on the downstream side of the film and television industry. Its operations include construction and investment in cinemas, as well as film distribution and screenings. The acquisition will help the company expand its business into film development and production.
In January, Wanda Media acquired a majority stake in Hollywood movie studio Legendary Entertainment for 23 billion yuan. Legendary Entertainment has participated in the production of blockbusters including Jurassic Park, Godzilla, and Interstellar.
The World of Warcraft, a new film that will be released domestically on Wednesday, is also a landmark piece produced by Legendary Entertainment. From 2016 to 2018, the studio plans to develop more sequels of films that have topped the box office, including Godzilla 2, and the sequel of Jurassic Park.
Last year, Legendary Entertainment suffered a loss of 3.6 billion yuan, and Wanda Media had a deficit of 3.9 billion yuan.
Despite the loss, Wanda Cinema signed up to the agreement with Wanda Media, and predicted that in the next three years, the cumulative net profit of Wanda Media will be no less than 5.1 billion yuan.