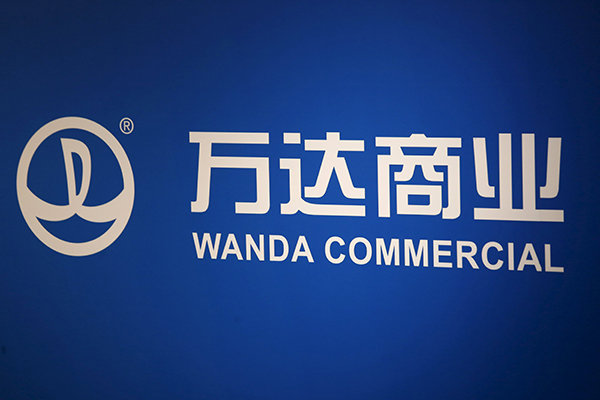 The company logo of Dalian Wanda Commercial Properties Co Ltd is displayed at a news conference on the company's annual results in Hong Kong, China, March 24, 2016. [Photo/Agencies]
Chinese billionaire Wang Jianlin's Dalian Wanda Group Co is offering HK$34.5 billion ($4.4 billion) to buy out its Hong Kong-listed property unit, as it seeks a higher valuation for the business on mainland stock exchanges.
Wanda will pay HK$52.80 for each Hong Kong-traded share of Dalian Wanda Commercial Properties Co, the company said in a statement on Monday, 10 percent higher than an earlier offer of at least HK$48 and 3 percent higher than its last trading price of HK$51.25 before trading was halted on April 22. The shares, which have traded in Hong Kong for less than two years, fell to HK$49.25, down 1.5 percent after resuming trading on Monday.
Wang, who controls Wanda Commercial's Beijing-based parent, said that the unit was "substantially undervalued" and he wanted to proceed with the privatization. The billionaire has been seeking investors to help purchase as much as 14.41 percent of the shopping-mall operator and re-list it in the Chinese mainland, according to a document sent to prospective backers.
Going-private deals that aim to relocate overseas share listings to Shanghai or Shenzhen have been under the spotlight, after the mainland's stock regulator voiced concerns such transactions could flood its market. Wanda's transaction is pending shareholder and regulatory approvals, according to the statement.
In its pitch to investors, Wanda cited an average valuation of 29 times estimated full-year earnings for mainland listings, based on four companies engaged in managing free trade zones and industrial parks. Wanda Commercial was trading at about 6.4 times before trading was halted in April, according to data compiled by Bloomberg.
Wanda will proceed with plans to buy out the property unit after considering whether to scrap the deal in the wake of regulatory concerns, people familiar with the matter said.