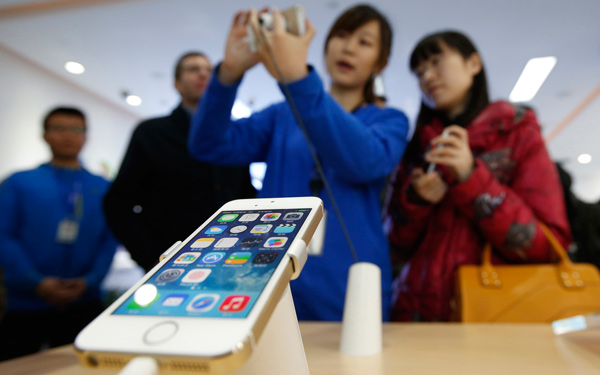 A staff of a China Mobile shop explains a function of the iPhone 5s to a customer in Beijing January 17, 2014. [Photo/Agencies]
It was regarded as a game changer in mobile phone industry when Apple Inc launched its first iPhone in 2007.
But for Bertrand Schmitt, chief executive officer and co-founder of App Annie, a San Francisco-headquartered app analytics startup, it is the second iPhone that truly marked the beginning of smartphone era.
"The second version called iPhone 3G came with an App store, which makes it much more easier to discover, download and update apps," he said, adding it was the time he started to realize big changes were about to happen.
Now six years after he launched App Annie, a service that collects and deciphers data about the use of individual apps, as well as providing more complex metrics about user behavior and the impact to revenue growth, something big has happened and at the center of all these changes is China.
The latest statistics from App Annie show that for every hour users spend on their smartphones, 51 minutes are spent using apps while only 9 minutes are spent using browsers. And the number of app users is projected to reach 6.2 billion in 2020 from 2.6 billion in 2015.
Although the popularity of smartphones in China only really started to take off in 2012, China is catching up very quickly and is looking to overtake the United States, becoming the world's top spending nation on in-app consumption before 2020, said Schmitt.
He told China Daily in a recent exclusive interview that China accounts for about 20 percent of the world's gross app store revenue and it is expected to take about 30 percent of total revenue by 2020.
Gross app store revenue in China totaled $8.7 billion in 2015 and will reach $30.9 billion in 2020, according to App Annie.
The shift in user habit means that mobile apps have gradually become the predominant way for anyone who wants access to Chinese consumers, he said.
"It is very impressive that about 80 percent of Alibaba's e-commerce transactions are made on mobile devices. If you look at the United States, probably only 50 percent of the e-commerce transactions are made on mobile. China is pretty advanced in the era of mobile internet," he said.
According to Schmitt, the main reason that the Chinese have so willingly embraced the mobile internet era is that personal computers were very expensive and took up a lot of space compared with a smartphone.
"So once people can get a smartphone at a reasonable price, they move very fast. And also, in countries like the United States, people used personal computers for 20 years. The migration from PC to mobile takes more time," he said.
China is one of the largest markets for App Annie. About 15 percent of its 500,000 registered users are in China. According to Schmitt, the company will keep investing in China, especially in South China.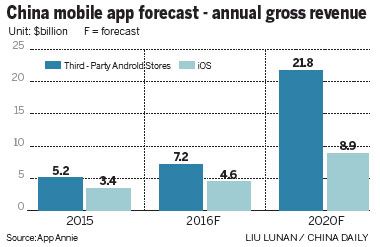 China mobile app forecast-annual gross revenue [Liu Lunan/China Daily]