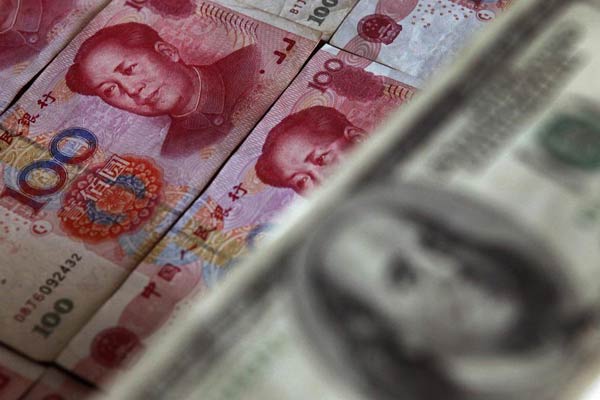 A photo illustration shows a $100 banknote placed above Chinese 100 yuan banknotes in Beijing in this May 10, 2013 file photo. [Photo/Agencies]
Economists are debating the implications of the yuan falling to its lowest level against the US dollar for five years.
The Chinese currency dropped from 6.549 to the dollar on Friday to 6.589 on Wednesday.
The yuan-dollar rate has been in the spotlight since US Federal Reserve Chairwoman Janet Yellen said last week that higher interest rates would be "appropriate" in coming months.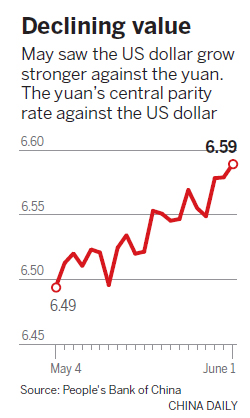 Lian Ping, chief economist at the Bank of Communications, said the downward pressure may continue to mount in coming weeks, but added, "Compared with other new economies, the depreciation of the yuan is not that significant."
A drastic and long-term cut in the currency's value is unlikely, Lian added.
Cao Yuanzheng, chief economist at Bank of China, said US interest rates will not see a major increase and the yuan will not "continue a process of depreciation".
"People will need more data to tell if the recovery in the United States is strong enough," Cao said.
If US interest rates rise, this will have some short-term influence on China and the Chinese capital market, but "won't leave lasting pain".
Cao said that if changes in the US result in a serious capital flight, the Chinese government does not lack self-protection measures.
Gao Huiqing, an economist at the State Information Center, said that although he expects the yuan to depreciate further in the next two weeks, worries over its long-term depreciation are unwarranted.
"The Chinese central bank is determined to keep the yuan stable. Our reform will go on. Our economy will continue to grow. The likelihood of a major change in China's exchange market is highly unlikely," Gao said.
Regarding the policy tools that China may use to cope with a major capital flight, it is too early to make a prediction, Gao added. Judging from the situation now, "it is obvious that the People's Bank of China has no intention to take further steps".
"Some capital outflows are normal. They're not as intimidating as some people think," Gao said.
Zhao Yang, chief China economist at Nomura, said, "There might be more domestic capital, especially from the private sector, flowing to foreign countries, but the extent will remain small.
"Capital outflows are seeking a new balancing point at a time when China is restructuring, and have yet to hit bottom."
Zhao added that downward pressure will not be as significant as last year, when the People's Bank of China adjusted the range of the yuan's reference rate against the dollar in August that led to an estimated $1 trillion in annual capital outflows.
In the long run, the yuan exchange rate will be stable, Zhao said.