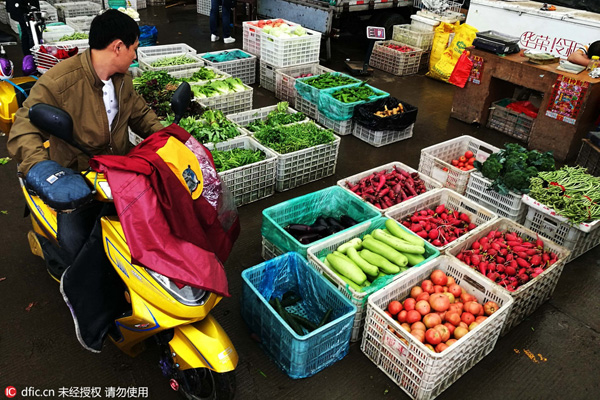 A man passes by a vegetable stand at a farm produce market in Nantong, East China's Jiangsu province, May 29, 2016 [Photo/IC]
BEIJING - Farm produce prices continued their downward trend last week due to cheaper fruit and vegetables, the Ministry of Commerce said on Wednesday.
The average price of 30 types of vegetables fell 5 percent, compared to a drop of 4.1 percent a week earlier, according to the ministry's website.
White gourd, zucchini and cucumber prices fell 15.3 percent, 13 percent and 11.6 percent, respectively, from the previous week in a sample of 36 cities. The average price of six kinds of fruit dropped 1.4 percent.
Grain remained steady, with rice prices unchanged from a week earlier, while flour edged up 0.3 percent.
Changes to meat prices varied, with pork rising 0.5 percent. Mutton dropped 0.4 percent, and beef remained unchanged.
Cooking oil prices fluctuated. Rapeseed oil and peanut oil edged down 0.2 percent and 0.1 percent, respectively. Soybean oil rose 0.3 percent.
Seafood prices rose slightly, with chub and hairtail up 1.6 percent and 1.3 percent, respectively.
Food prices account for one-third of the calculation of China's consumer price index (CPI).
This year's target consumer price growth is set at around 3 percent, the same as in 2015. China's CPI rose 2.3 percent in April, flat from the previous two months.