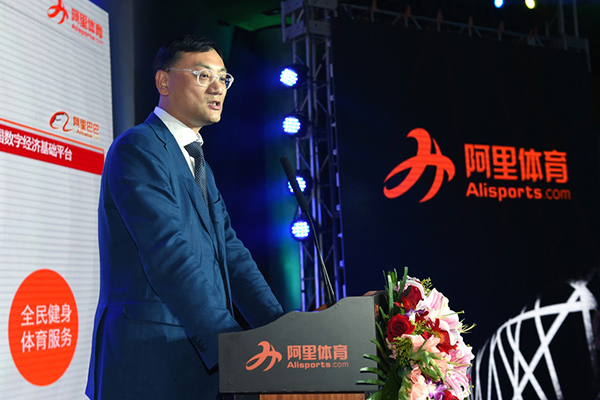 Zhang Dazhong, chief executive officer of the Shanghai-based AliSports. [Photo/IC]
The sports offshoot of China's e-commerce giant Alibaba Group Holding Ltd said it will invest 10 billion yuan ($1.52 billion) with partners to turn the country's traditional sports venues into internet-enabled smart stadiums.
AliSports said on Wednesday that it will offer tailor-made solutions to help Chinese cities upgrade their stadiums so that the venues can max up in their usage and operate in a more effective way.
Zhang Dazhong, chief executive officer of the Shanghai-based AliSports, said the company will set up a foundation dedicated to improving sports infrastructure throughout the country.
"China has about 1.7 million stadiums. The goal for us is to become a sports services provider that can deliver turnkey solutions for each city," he said.
Many Chinese stadiums face challenges in terms of commercialization. Apart from the subsidies offered by local governments, many turn to sponsorship from companies to maintain their operations.
With the help of cloud computing and big data technology, AliSports plans to better connect stadiums with their local sports fans via tailor-made solutions.
In the near future, when people enter a local stadium, it is likely their smartphones will automatically notify them of the sports events they are interested in and promote sports gear they like via analyzing their shopping records on Alibaba's platforms.
By leveraging the huge data pool of Alibaba, AliSports can, for example, know which sport is the most popular in Nanjing, Jiangsu province.
"Chinese spent a total of 90 billion yuan in 2015 on sports-related items on Taobao and Tmall (two platforms of Alibaba), surging from less than 200 million yuan in 2012," Zhang said, adding the data are a very valuable asset AliSports can tap into.
The company will first choose 20 cities to run some pilot projects and later upgrade tens of thousands of stadiums across 100 cites through investment.
In another development, Alibaba Group and Suning Commerce Group Co announced an alliance with home appliances brands on Wednesday to stimulate their sales to a total of about 400 billion yuan in next three years.
Under the new strategy, home appliances brands including Midea, Haier, Samsung, Hisense, Huawei and Xiaomi will increase their annual sales revenue to 50 billion yuan in three years from current 10 billion yuan.