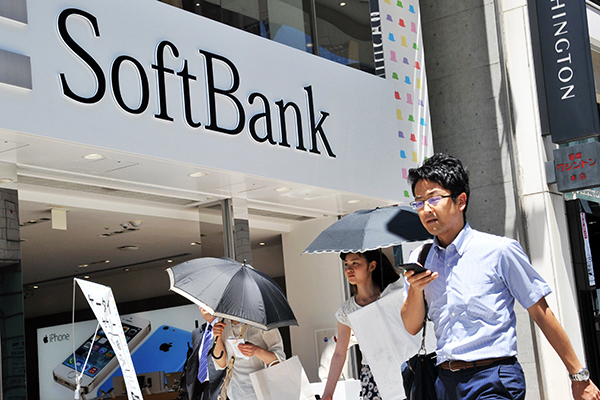 Pedestrians walk past a shop of Japanese mobile communication giant Softbank in Tokyo. [Photo/Agencies]
$7.9b transaction marks Japanese firm's first sale of shares in e-commerce giant since 2000
Japan's SoftBank Group Corp has announced its plan to sell $7.9 billion worth of its stake in Alibaba Group Holding Ltd in an aim to generate proceeds to cut debt.
SoftBank, which is Alibaba's largest shareholder, has established a new trust with an intention of selling $5 billion in Alibaba's American depositary receipts to qualified institutional buyers, the Japanese company said in a statement.
SoftBank will also sell $2 billion in shares back to Alibaba, $400 million to members of the Alibaba Partnership of senior executives, and $500 million to a major sovereign wealth fund, which has yet to be identified.
The transaction marks SoftBank's first sales of Alibaba shares since it invested in the Chinese e-commerce firm in 2000. With the sales, SoftBank will see its stake in Alibaba reduce from 32.2 percent to 28 percent, but it is still Alibaba's largest shareholder.
Investors have been worried about finances at SoftBank since it bet $20 billion on acquiring a majority stake in the United States wireless carrier Sprint Corp in 2013. The investment is SoftBank's largest ever but the company has been burning cash due to fierce competition to secure subscribers.
Previous media reports also said SoftBank was considering selling its stake in Finnish smartphone game maker Supercell to lower its debt.
Michelle Ma, an analyst with Bloomberg Intelligence, said SoftBank is demonstrating its ability to unlock value from its investment, which may boost investors' confidence.
Some analysts said the timing of the SoftBank stock sale was not auspicious given that Alibaba unnerved investors last week when it reported that the US Securities and Exchange Commission was investigating its accounting practices.
But Ma from Bloomberg Intelligence described Alibaba as SoftBank's "most valuable asset". "It will still hold 28 percent of Alibaba after the sale, indicating that SoftBank continues to believe in the Chinese e-commerce giant," Ma wrote in a report.
The two companies said they would maintain a strategic partnership. Masayoshi Son, chairman and CEO of SoftBank, will remain a board director of Alibaba, and Alibaba Executive Chairman Jack Ma will remain a board director of SoftBank.
"Under the leadership of Masayoshi Son, SoftBank has been a highly valued, long-time partner of Alibaba for more than 16 years, and we look forward to continuing our strong partnership together," said Jack Ma.
"As SoftBank looks to strengthen its own balance sheet, Alibaba determined that it was the best use of our capital to reinvest in our own business through an efficient buyback of a large number of shares in our own company that is accretive to our stockholders," Ma said in a statement on Wednesday.
Bloomberg and Reuters contributed to this story.