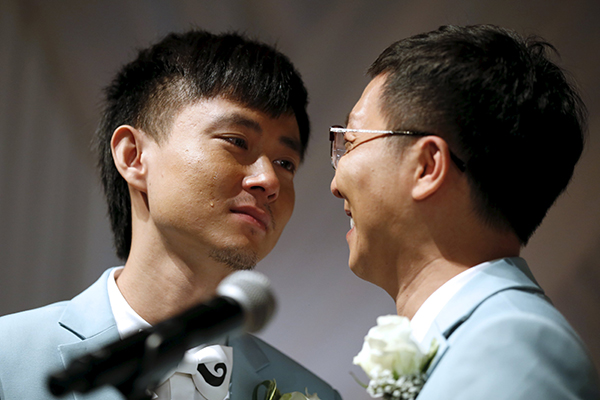 A couple at a group wedding for seven same-sex couples from China, in West Hollywood, California, United States, June 9, 2015. [Photo/VCG]
Blued, China's most popular gay social-networking app, said on Wednesday it has completed Series C and C+ rounds of financing, and netted several hundred millions of yuan in those two rounds, without disclosing details.
Its valuation has reached more than $300 million, according to the company.
The news was announced in June, because it was declared LGBT Pride Month in the United States by President Obama.
The C+ round of funding was led by Vision Knight Capital (China) Fund and other investors including China Mobile Games and Entertainment Group Ltd. The earlier Series C round of financing was led by leading venture capital organization Ventech China, and Hong Kong's New World Development Co Ltd participated.
Founded in 2012, Blued has more than 27 million registered users globally as of February, with overseas users accounting for more than 20 percent of the total.
It has become the Chinese gay social-networking app with the largest number of users, and one of the top social-networking apps on the App Store.
Geng Le, CEO of Blued, said the company has seen significant revenue growth, and it started to make a profit in the first half of 2016. The app mainly makes money from advertising and live streaming, where audiences can watch live-streaming video broadcast and audiences can send virtual gifts to the broadcasters.
"With the funding, we plan to speed up our international expansion, and localize our products overseas. We will promote the marketing and branding, and set up more offices overseas," the Blued chief said.
"We also plan to hire more competitive staff, and we will pay them a considerable salary."
Currently, Blued has overseas offices in the United States and Thailand. The app provides different versions inh nine languages, and its users come from more than 190 countries and regions.
This year, Blued aims to net revenues of several hundred million yuan, the company said. Getting listed on the stock exchange is one of its goals in the next one to two years, although the location of listing is undecided yet.
China's gay market is worth a reported $300 billion annually, according to Euromonitor International, a market research firm.
"The gay business is a piece of virgin territory in China, and we hope to become a leader of this lucrative market," Blued's Geng said.
"The substantial spending ability of gays and the funding support we got indicate the strong power of the so-called pink economy (gay economy)," Geng said.
During the first half of 2015, gay social-networking apps have been downloaded at least 40 million times in China, according to a report by Coolchuan, an app tracking platform.