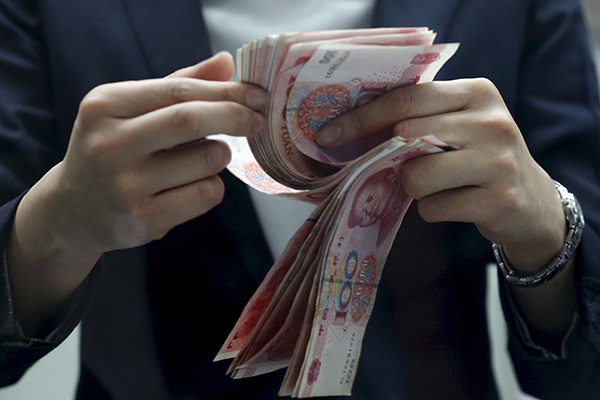 A clerk counts Chinese 100 yuan banknotes at a branch of a foreign bank in Beijing Jan 4, 2016. [Photo/Agencies]
China's Ministry of Finance announced the issuance of a sovereign renminbi offshore bond in London on Wednesday, giving a boost to London's fast growing offshore renminbi market and creating yet another milestone for the yuan's internationalization.
The Ministry of Finance's 3 billion yuan ($458 million) bond is scheduled to be issued on June 2, and soon after that it will list to be traded on the London Stock Exchange. Bank of China and HSBC are joint global coordinators of the bond.
The bond is the first offshore renminbi bond issued by the Ministry of Finance outside of China. So far it has only issued offshore renminbi bonds in Hong Kong.
Bonds issued by countries' finance ministries, known as sovereign bonds, are significant contributions to market confidence because they are liquid and safe, and provide a benchmark for other assets to be priced. The increased certainty of renminbi offshore product pricing in London enabled by the sovereign bond is expected to lead to further growth of renminbi market liquidity in London.
Sun Xiaoxia, director general of the finance department of China's Ministry of Finance, said the issuance of sovereign renminbi bonds in foreign markets is a powerful indication of the international market confidence to the prospects of China's development.
"In recent years, with continuous development of the offshore renminbi market, as well as increasing variety of renminbi derivatives, the market urgently requires safe and liquid sovereign bonds to build up a benchmark interest rate curve, so as to provide a reference for financial products pricing," said Sun.
The liberalization of the Chinese currency is a natural step to accompany China's fast economic growth and growing international trade and investment volumes. In 2015 the International Monetary Fund announced the inclusion of renminbi in its basket of special drawing rights currencies, which gave the renminbi's status as a reserve currency a boost.
Chris Jones, Global Head of Local Currency Syndicate at HSBC, said he expects the Ministry of Finance's offering of renminbi bonds in both China's onshore market and offshore markets to grow in the future.
Andrew Carmichael, Capital Markets partner at the London-based law firm Linklaters, said that the Ministry of Finance's bond issuance in London demonstrates the Chinese government's commitment to full participation in the international financial system, especially shown by the fact the bonds are documented in English, governed by English law and are to be listed on the London Stock Exchange.
Miranda Carr, senior analyst at Haitong Securities in London, said this sovereign bond gives good support for global investors' confidence in the yuan's exchange rates, as such good investment opportunities give global investors the option of holding on to the renminbi instead of exchanging it into other currencies.
"Due to the growing prominence of the renminbi globally and the inclusion of renminbi into SDR, investors globally are trying to increase their portfolios' weight of renminbi assets. This renminbi sovereign bond and subsequent issuance of renminbi offshore bonds will help make it easier for international investors to access renminbi investment opportunities," said Carr.
The choice of London for this sovereign bond is hailed by analysts as an endorsement of the City's rapid growing renminbi offshore market. In April, London overtook Singapore to become the second largest offshore renminbi clearing center, according to data from Swift, the global payments system.
The latest Swift data shows the UK accounts for 6.3 percent of all offshore transactions using the renminbi, compared to Singapore's 4.6 percent. Hong Kong is still the largest renminbi offshore market, as it processes 72.5 percent of all renminbi payments.
Matthew Taylor, director of finance at the UK Treasury, said that the announcement fits into London's aspirations to be "the clear number one in renminbi offshore financial services, including asset management and trade financing, and in FX trading".
"We want to be the preferred location for Chinese corporate treasuries, and the centering global capital markets for the intermediation of Chinese savings…This will strengthen London's global position as a leading renminbi center, increase trade and investment links between the UK and China, and ultimately help to address global imbalances," Taylor said.
To contact the reporter: cecily.liu@mail.chinadailyuk.com