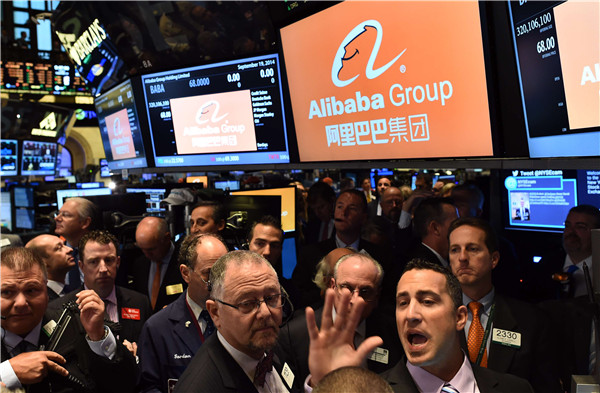 Traders wait for Chinese online retail giant Alibaba's stock to go live on the floor at the New York Stock Exchange in New York on Sept 19, 2014. In 2015, Gucci and other brands owned by Paris-based Kering SA filed a suit in New York against Alibaba.[Photo/Agencies]
An investigation by the US securities watchdog into the accounting practices of New York-listed Alibaba Group could lead to global investors re-evaluating Chinese internet stocks, according to an analyst.
The share price of Alibaba Group fell by 6.8 percent, the biggest slump since January, on Wednesday after news broke of the investigation by the US Securities and Exchange Commission.
The regulator is looking at data reported from Alibaba's Singles' Day promotion — China's biggest online shopping festival — the e-commerce giant disclosed in its annual report on Wednesday.
It is also assessing how Alibaba consolidates results from affiliated companies, including Cainiao Network, its logistics partner.
Alibaba said in a statement that the probe is routine and the company is providing documents and cooperating with the investigation, which should not be interpreted that the company has violated US federal law.
Yin Sheng, an independent analyst who has followed China's internet industry for years, said the share prices of many Chinese internet companies do not fully reflect the uncertainties and risks they face.
"Any ... risks can ring the alarm bells and lead to a rethink of their evaluation," he said, believing this is the main reason for the steep fall in Alibaba's stock price.
He said overseas investors used to pay a high premium for Chinese internet companies due to high growth.
"With the slowing of China's economic growth and limitation on business — most of them haven't expanded outside China — investors seem to have started to re-evaluate such shares."
However, Morgan Stanley analyst Robert Lin wrote, "We are incrementally more positive on Alibaba given its increased transparency and disclosures on Cainiao and other related parties."
Deutsche Bank analyst Alan Hellawell said he "would never be dismissive of an SEC inquiry". But he added that dialogues such as that disclosed by Alibaba occur with "some regularity" between the SEC and other Chinese internet companies listed in the US.
The firm maintains its "buy" rating on Alibaba, but Hellawell said he is looking forward to more detail on the SEC's exchanges with the company when documents are made public by the regulator.