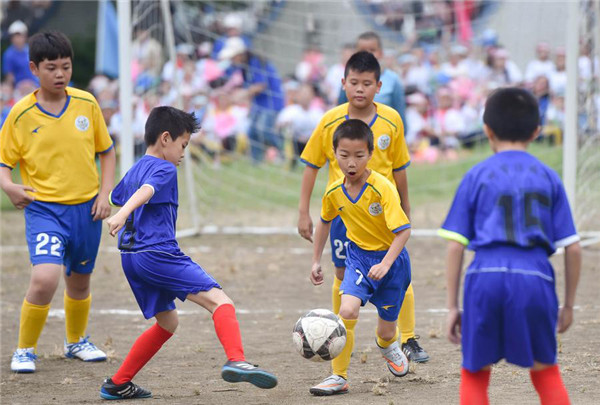 Pupils play football in the 1st School Football Culture Festival of Xiangban Primary School in Fuzhou, the capital of Southeast China's Fujian province, on May 20, 2016. [Photo/Xinhua]
A business delegation from one of the world's most powerful soccer agencies, United Kingdom-based Stellar Group, arrives in Guangzhou, Guangdong province, on Friday to discuss its potential sale to a Chinese buyer.
If completed, the deal will enable the winning bidder to immediately have on its books a number of top international soccer stars, including Real Madrid star Gareth Bale and Manchester City goalkeeper Joe Hart.
Five Chinese companies have shown interest in participating in the bidding battle, which sources said is likely to be worth around 900 million yuan ($140 million).
The Chinese companies vying for control of Stellar are said to include model carmaker Rastar Group, which last year bought a majority stake in Spanish soccer club Espanyol, and machinery and industrial equipment manufacturer Shanghai Zhongji Enterprise Group.
Chen Yansheng, Rastar's chairman, is expected to meet the Stellar delegation, which is led by its founder Jonathan Barnett.
Following a first meeting in Guangzhou, the delegation is expected to move onto others planned in Shenzhen, Shanghai and Nanjing.
The $140 million value is believed to only have been verbally discussed, and no deadline for the negotiations has been set.
Founded by Barnett in 1992, Stellar has brokered multiple high-profile player deals, including Bale's record-breaking $125 million move to Real in 2013.
Last year, it brokered $439.6 million worth of contracts, which generated nearly $44 million in commission, making it the world's fourth most-powerful sports agent, according to Forbes.
Although many of the 560 names on its books are top players from the UK, the agent recently established joint ventures in Madrid, Argentina's capital Buenos Aires and in Sao Paulo in Brazil with the intention of broadening its portfolio.
Its potential acquisition by a Chinese company falls within the country's national plan to expand its influence in world soccer, and to take a more active role in the top ranks of management within the sport.
"Such moves are intended to establish and build supply-chain integration," said Simon Chadwick, a professor of sports enterprise at Manchester's University of Salford.
"That is, China and its investors in sports want to be able to exert some influence and control over the player labor market."
In the latest winter transfer window, the Chinese Super League spent around 340 million euros ($382 million) on new players, more than any other league in the world, to bring foreign talent into the domestic game.
"Being a football agent is a potentially a very lucrative business," said Chadwick.
"By seeking to take some control of football's supply chain, Chinese investors may be hoping to ensure that revenues generated by its football industry don't leak out of China to overseas agents."
The purchase of the international agency could bring more transparency to the country's sports transfer market.
Mark Dreyer, founder of China Sports Insider, a provider of sporting analysis, said, however, many soccer agents in China "do not have a good reputation", after countless stories about "bungs and under-the-table payments".
"If the acquisition of this group helps make the whole industry more professional," Dreyer said, "then obviously that would be a much-needed positive."