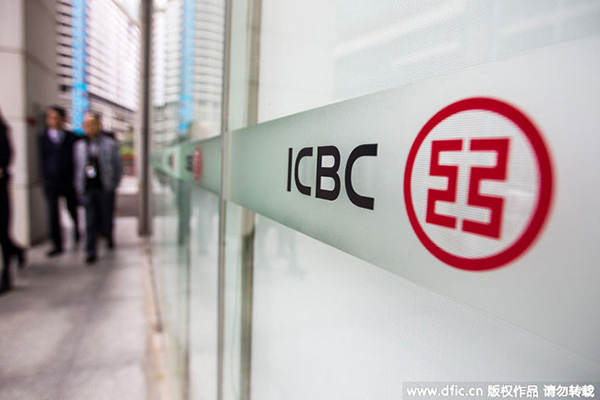 Pedestrians walk past a branch of ICBC (Industrial and Commercial Bank of China) in Shanghai, China, Dec 4, 2014. [Photo/IC]
China's State-owned commercial lenders have made strong progress in promoting renminbi internationalization, with the currency falling 5.6 percent against the US dollar in the past year.
Industrial and Commercial Bank of China Ltd has issued its first renminbi-denominated certificate of deposit, allowing institutions to issue and clear financial products denominated in the Chinese currency in the US.
The CD, valued at 500 million yuan ($76.3 million), has a 31-day maturity and allows US borrowers to issue renminbi-denominated securities for trading and settlement purposes.
"The launch presents a significant milestone in meeting the growing demands of investors in the US and around the world to have access to the renminbi," said Jiang Jianqing, ICBC's chairman, in a statement.
"The renminbi is an increasingly important part of the global payments system, as payments in this currency are growing faster than overall global payments in all currencies."
Between February and March, renminbi payments increased 18.5 percent in value compared with a 10.7 percent increase in payments of other currencies, according to the Society for Worldwide Interbank Financial Telecommunication, which said the renminbi is now the fifth-most active currency used for global payments.
ICBC and BNY Mellon Corporate Trust, the issuer and paying agent of the new CD, are members of the Working Group on US Renminbi Trading and Clearing, which promotes trading, clearing and settlement of the Chinese currency in the US.
The group is chaired by former New York mayor Michael Bloomberg, who said at the launch ceremony that it is important that US firms can easily use Chinese currency.
"Being able to clear renminbi here will lower costs for firms that want to do business, make our financial centers more competitive globally, and strengthen US-China relationships.
"All of that will help growth on both sides of the Pacific," Bloomberg said.
Large Chinese commercial lenders have been accelerating the internationalization of the renminbi, in tandem with ongoing business expansion abroad by Chinese companies and banks.
ICBC registered 4.34 trillion yuan in cross-border renminbi business volume in 2015, up 18.61 percent from the previous year.
Bank of China Ltd, another leading player in renminbi internationalization, recorded 5.39 trillion yuan in cross-border renminbi settlement last year.
Its cross-border renminbi clearing business volume rose 37 percent year-on-year to 330.96 trillion yuan.
Contact the writers at amyhe@chinadailyusa.com and jiangxueqing@chinadaily.com.cn