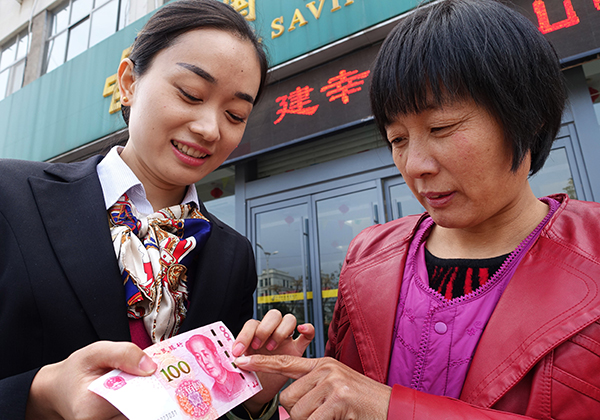 An employee shows a customer anti-counterfeiting marks on a new banknote at Postal Savings Bank of China's branch in Zaozhuang, Shandong province. [Photo/China Daily]
Postal Savings Bank of China Co Ltd, gearing up for an $8 billion initial public offering in Hong Kong in the second half of this year, on Monday published its IPO prelisting application on the website of the city's stock and futures market operator-Hong Kong Exchanges and Clearing Ltd.
The IPO is set to be the biggest since e-commerce giant Alibaba Group Holding Ltd raised a record $25 billion in New York in September 2014.
The bank's net profit for the three months ending March increased 11 percent from the same period a year earlier to 12.5 billion yuan ($1.9 billion). Its nonperforming loan ratio stood at 0.81 percent as of March 31, significantly lower than large commercial banks' average of 1.72 percent.
China International Capital Corporation Hong Kong Securities Ltd, Morgan Stanley Asia Ltd, Merrill Lynch Far East Ltd, Goldman Sachs (Asia) LLC, JPMorgan Securities (Far East) Ltd are joint sponsors of the planned IPO.
UBS AG Hong Kong Branch is the sole financial advisor, according to the prelisting documents filed to the Hong Kong Stock Exchange.
In December 2015, the bank issued a total of 11,604 million new shares to 10 strategic investors who made investments of 45.14 billion yuan and hold a total of 16.92 percent of the bank's stake.
Among the 10 investors is UBS, which holds 4.99 percent of the shares. The Swiss group is followed by China Life Insurance (Group) Co at 4.87 percent, China Telecommunications Corp (1.66 percent) and Canada Pension Plan Investment Board (1.2 percent).
The remainder are Ant Financial Services Group, the financial service affiliate of Alibaba Group Holding Ltd (1.08 percent), JPMorgan Chase & Co (0.94 percent), Fullerton Management Pte Ltd (0.72 percent), World Bank international financing arm International Finance Corp (0.69 percent), Singapore's DBS Bank Ltd (0.58 percent) and Tencent Holdings Ltd (0.19 percent).
The bank is going forward with its IPO at a time when global financial markets have become turbulent due to the United Kingdom's vote to leave the European Union, which caused the pound to plunge to a 30-year low.
"Under the current market circumstances, companies seeking a successful IPO in Hong Kong are usually conservative on the pricing. Some companies have already delayed their IPOs to 2017," said Benson Wong, partner of PwC Hong Kong, at an IPO press briefing on Monday.
However whether the market will improve next year remains to be seen, said Jean Sun, another PwC partner.
"Postal Savings Bank has been preparing for an IPO for a long time, like carrying a baby. It can't wait any longer for the delivery, not to mention that it has political aspirations to realize," she said.
Established in 2007, PSBC is a leading retail bank in China with the biggest distribution network and customer base.