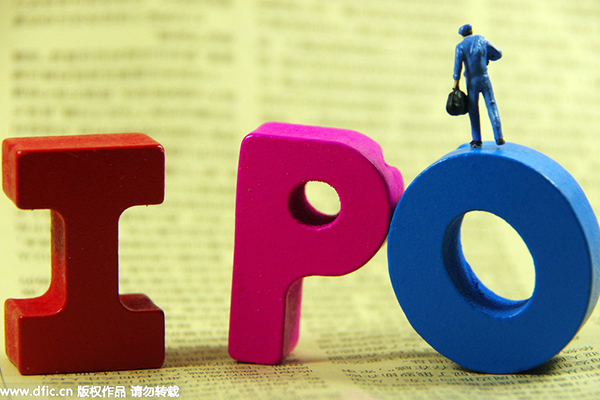 Initial public offerings in the A-share market have been pacing down this year, as the Chinese government looks to tame the flow and stabilize the capital market, a recent Ernst & Young report shows.
The country's two mainland bourses saw 63 new listings in the first half year, down 66 percent from a year earlier, raising a total of 31.7 billion yuan ($4.77 billion), according to the report released on Tuesday.
Average funds newly raised stood at 530 million yuan during the same period, a record low since 2008, with small and medium-sized firms dominating the listings.
Terence Ho, director of EY's Greater China Strategic Growth Markets, said the securities regulator is tightening control of IPO activity on the Chinese mainland in order to maintain stability of the capital markets.
Pressure remains in the market as the country's economy is entering to an "L-shaped" recovery and concerns of yuan depreciation persist, he said.
"However, across the market, investor sentiment for A-share IPOs remains overwhelmingly positive as they continue to make healthy returns," Ho added. "Each IPO rose by the 44 percent maximum permitted on the first day of trading."
According to the report, this year's largest mainland IPO so far was Shandong Linglong Tyre Co Ltd, which is expected to raise $399 million, followed by First Capital Securities with $359 million in May and China Nuclear Engineering Corp Ltd with $278 million in early June.
"There are now over 800 companies ready to go public in the Chinese mainland, so with the pipeline building there is no shortage of potential IPOs," said EY Assurance Partner Vivien Zhang.
"In the short term, however, the regulator will continue to keep a close eye on market conditions and modulate new listings accordingly," she said. "Emphasis of the market reform is shifting to risk prevention and multilevel capital market building."
The China Securities Regulatory Commission has postponed a long-awaited transition to a registration-based system for IPOs from the current one involving lengthy reviews, as it's been studying details before the launch.
In contrast, the Hong Kong IPO market is expected to heat up throughout this year, after a tepid performance in the first half, as there is a strong pipeline of companies waiting for the right window to open including a number of large listings.
Hong Kong and Shenzhen Stock Exchanges were the two most active bourses globally by number of deals by far this year, the report shows. And Hong Kong led the world by capital raised.
Brexit has been rattling the global capital markets, but "we have yet to observe its impact on IPO activity in both Hong Kong and the mainland," said Ho.