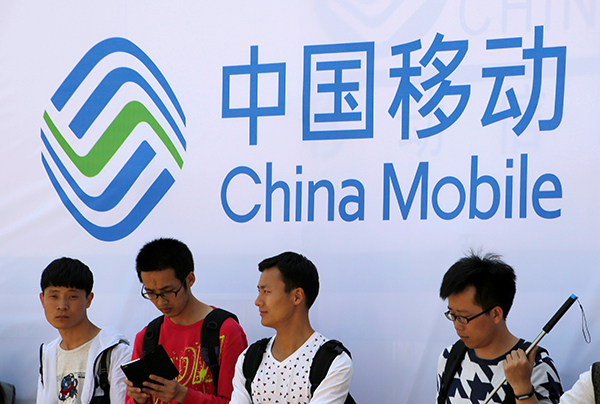 Attendants stand in front of the logo of China Mobile at a venue for the launch of Xiaomi's new smartphone in Beijing. [Photo/Agencies]
China Mobile Communications Corp, the world's largest telecom carrier by subscribers, aims to grow its internet-of-things revenue to 100 billion yuan ($15 billion) by 2020, as technological advances make it possible to put home appliances, vehicles, shoes and other items online, a company executive said.
Li Yue, CEO of China Mobile, said on Wednesday that IoT will be one of its most important growth drivers as the State-owned company is transforming from a wireless operator to a digital service provider.
With about 1.3 million 4G base stations across the country, China Mobile operates the world's largest 4G network. As of May, the company has more than 400 million 4G subscribers, more than that of smaller rivals China United Telecommunications Corp Ltd and Telecommunications Corporation combined. But, the company is searching for new revenue sources, after internet-based messaging services have eaten into the company's once-lucrative voice calls and text business.
"If everyone can link 10 items online, China will have at least 10 billion internet-enabled connections by 2020. This is a huge opportunity," Li said at the 2016 World Mobile Congress Shanghai.
The company is trying to add some 5G technology into the 4G networks and it is stepping up efforts to realize the commercial application of 5G by 2020.
Qiao Hui, deputy general manager of China Mobile's IoT branch, said the telecom giant is expected to connect 5 billion items by 2020, which will generate 100 billion yuan in revenue.
China's consumer-level information market is expected to hit 5.5 trillion yuan by 2020, with an annual growth rate of 13 percent over the next five years, China Mobile forecasts.
Xiang Ligang, a Beijing-based expert and founder of industry website cctime.com, said: "China Mobile's huge 4G presence and its cutting-edge 5G research will give the company an edge in capitalizing on IoT."
"But instead of developing all the products itself, the company should cooperate with more smart hardware makers to build an ecosystem," Xiang said.
Other Chinese telecom operators are also rushing to pounce at new technologies to grow business.
Yang Jie, chairman of China Telecom, China's third-largest mobile provider, said in his first public speech after taking the helm, that the company will focus on leveraging artificial intelligence and big data to offer smarter telecom services. The strategy is quite different from that of China Mobile, which places more emphasis on building up user base, analysts said.