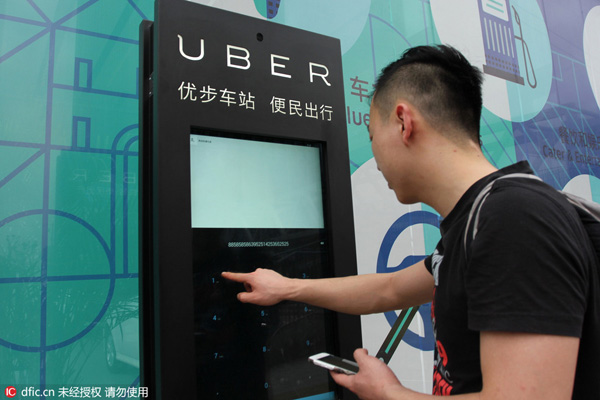 Photo taken on April 14, 2016 shows a Uber car-hailing station in Longyang Avenue, Wuhan, capital of central China's Hubei province.[Photo/IC]
China CITIC Bank Corp Ltd and Uber Technologies Inc announced the launch of a co-branded credit card on Wednesday, taking the first step toward a strategic partnership globally.
Emil Michael, chief business officer of Uber, said CITIC Bank is their first partner globally to launch a co-branded credit card.
"CITIC Bank shares our commitment to innovation and to delivering the best possible customer service. They share our entrepreneurial drive, and they are innovators in the internet banking industry," he said.
CITIC Bank customers can earn free Uber rides and cashback rewards by using a Uber-CITIC credit card to pay for the rides. Soon it will be possible for Uber drivers to access CITIC Bank funding to buy or upgrade their car, he said.
Before its cooperation with Uber, CITIC Bank has explored ways to expand and integrate online-offline business through partnership with several leading internet companies. Guo Danghuai, vice-president of the bank, said CITIC Bank has jointly issued more than 3 million credit cards with the three largest Chinese internet companies, namely Baidu Inc, Alibaba Group Holding Ltd and Tencent Holdings Ltd.
Last year, the mid-sized commercial lender launched a co-branded credit card with the finance arm of JD.com Inc, China's second-largest online retailer. Mainly targeting young customers born after 1990, the card allows its holders to enjoy an interest free period for a maximum of 80 days, in addition to earning reward points and special offers.
More Chinese banks are stepping up cooperation with internet companies to acquire new clients online, improve precision marketing solutions, find new business models, as competition in payment services has greatly intensified with the participation of large internet companies.
Earlier this year, China Merchants Bank Co Ltd announced a strategic cooperation with Chinese ride-hailing service giant Didi Chuxing in various aspects, including payment, finance and marketing. Didi Chuxing customers are allowed to pay for rides via an instant online payment service provided by the bank.
During the first quarter of 2016, the growth of payments using credit cards for most banks was much faster than the increase in their number of cards issued, said a report published by GEO Technologies Ltd, a Beijing-based big data solution provider.
Didi launches fund to calm frazzled taxi drivers hit by ride-hailing apps
Didi Chuxing, China's biggest on-demand transportation service provider, said it will set up a 100 million yuan ($15.04 million) fund to help the country's taxi drivers cope with the pressures and challenges brought by ride-hailing apps.
The money will be used to offer subsidies to drivers who "upgrade their services and award those actively engage in charity work", said the Beijing-based company in a seminar on Tuesday.
The move is seen as Didi's latest initiative in calming down taxi drivers, who have held several strikes in major cities to express their anger as their market share has been taken by privates cars operating on ride-hailing apps.
"The model of booking rides via apps has revolutionized how people are transported in China, which inevitably brings pressure to the traditional taxi industry," said Li Jianhua, chief development officer of Didi.
Didi said that in cities which have a high adoption rate for ride-hailing apps, rides completed by internet-enabled private drivers now almost equal rides completed by taxis.
Zhang Bei, vice-president of Didi, said his company is exploring new ways to help taxis increase their operational efficiency in order to create a win-win situation.
He said that through big data, for example, Didi is able to help passengers travel on the same route in a carpool using the same taxi. "Even if two passengers each pay only 60 percent of the original cab fare, taxi drivers can still earn 20 percent more," said Zhang.
Didi, which was founded four years ago, claims that more than 14 million rides are completed via its platform every day.