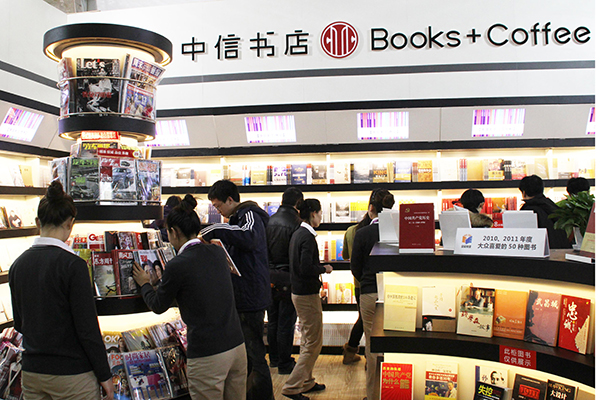 Readers select and read books at a CITIC Press bookstore in Beijing. [Photo provided to China Daily]
A new generation of bookstores redefines urban lifestyle and promises to revive the flagging fortunes of the publishing industry
The advent of online reading and e-books may have dealt a knock-out punch to traditional bookstores and old-fashioned publishing industry, but an emergent niche market of lifestyle bookstores promises to restore lost glory.
Branded bookstores are in, armed with innovative operations.
For instance, CITIC Press Group, the publishing offshoot of State-owned investment company China International Trust and Investment Corporation, is planning to expand its network of bookstores even as it grows its Internet publishing operations.
CITIC Press said it plans to open another 1,000 bookstores in China starting this year. All of them will ride the concept that books, coffee, culture, innovation and consumer trust form a potent combination. Such stores will likely open in the heart of major cities.
"We will first target big cities like Beijing and Shanghai, and open some flagship stores that are more than 1,000 square meters," said Shi Hongjun, general manager of CITIC Press' Shanghai branch.
"We will launch coffee shops with shelf-loads of books near office buildings, especially buildings of Fortune 500 companies, as well as near banks and cinemas. We are trying to create a literary atmosphere, and promote a book-reading habit nationwide," he said.
For instance, next to the headquarters of Lenovo Group Ltd in Beijing, CITIC Press launched a bookshelf coffee shop with floor-to-ceiling windows and a book wall.
The company's operations gathered momentum after it debuted on the National Equities Exchange and Quotations, known as the New Third Board, in December. CITIC Press is the first State-owned publishing firm to list on the board.
But Chen Fei, general manager of CITIC Press, could not attend the bell-ringing ceremony to mark the company's NEEQ listing because he was away in Thailand.
What for?
Shanghai-based business magazine CBNweekly reported Chen was busy tasting a dozen varieties of coffee beans so he could pick the best for use at the company's chain of bookshelf coffee shops.
CITIC Press' bookstore chain has been growing since 2010 at major airports and landmark buildings nationwide. It is now considered one of the major book retailers in China, with a network of more than 100 bookstores.
Some of the recent best-sellers at its bookstores were the Chinese editions of Who Moved My Cheese?, the biography of Steve Jobs, the late chairman and chief executive officer of Apple Inc, and World Order, by former US Secretary of state Henry Kissinger.
In 2014, CITIC Press grabbed a leading 10.3 percent share of the economics and management books market, a category the company figured was hot.
Shi, who introduced popular titles like The Da Vinci Code and The Kite Runner to China said: "We are going to build our bookstores into public spaces for urban culture, or city's cultural reception rooms. Some single large bookstores are declining, whereas medium-sized bookstores inside commercial complexes, and those that adapted to people's lifestyles, are picking up. This marks the transformation of the bookstore business model."
In 2014, the book publishing industry's sales increased by 2.7 percent to 79.1 billion yuan ($12.1 billion) from the previous year. But profit fell 1.3 percent to 11.7 billion yuan.
To encourage the development of physical bookstores, the government introduced a number of supportive policies.
A special fund launched in 2013 recognizes and rewards bookstores with outstanding operations. The fund's current value is more than 300 million yuan. Nearly 200 bookstores have received its awards so far.
In addition, the government exempted book wholesalers from value-added tax. This helped small and medium-sized bookstores, said An Le, deputy director of print and distribution at the State Administration of Press, Publication, Radio, Film and Television.
"Bookstores should consider value-added services, and provide spaces for public communications. For example, professional arts and music bookstores can introduce some small-scale galleries and music exhibitions. Modern bookstores will become cool, fun places to hang out at," An said.