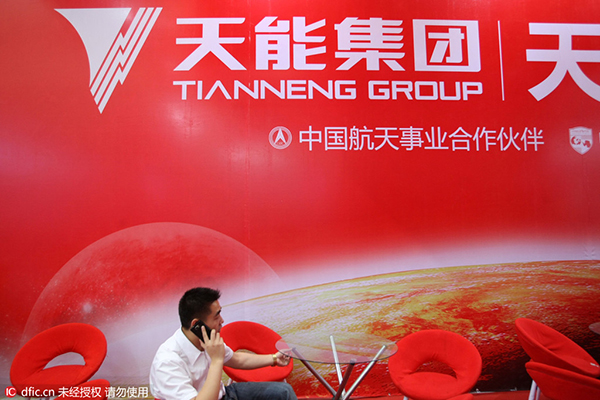 A stand of Tinaneng Group at an expo in Shanghai, May 14, 2013. [Photo/IC]
China's largest lead-acid battery maker is planning to build a production base in Southeast Asia to expand exports amid rising costs in the world's second-largest economy, the company's chairman said.
"There is a growing demand for batteries in markets such as Vietnam and the Philippines," said Zhang Tianren, chairman of Tianneng Group, based in East China's Zhejiang province. "As production cost surges in China, we want to locate our plants closer to our clients and better serve them."
The factory will also serve as a base to tap into neighboring countries, he said.
The battery industry faces a competition much more intense than other industries as automakers, which are racing to make cheaper electric cars with longer battery life, have become more price-conscious.
Zhang said the company is not only seeking to reduce costs but is also looking into technological breakthroughs, the only way out amid the price-cutting competition.
Apart from Southeast Asia, the company has been cooperating with a German firm in Europe. In 2007, it became the first mainland battery company to list on the Hong Kong Stock Exchange.
Tianneng, the biggest Chinese electric-bike battery supplier, focuses its businesses on lead-acid battery technologies, which is considered as lower cost and less environmentally friendly compared with lithium-ion batteries.
The type of lead-acid batteries is used largely in electric bikes and low-speed electric vehicles.
But the company plans to expand its business in the field of lithium-ion and storage batteries, as China, the world's largest energy consumer, encourages more innovation in research and development of lithium-ion batteries and shut down some small and illegal lead-acid battery makers to curb pollution.
Zhang said China produces 3.3 million tons of scrap lead-acid batteries every year, a major source of pollution if not handled well, but it could be a lucrative market if it was treated properly.
The company spent 1.8 billion yuan ($276 million) on a factory to recycle used lead-acid batteries in Zhejiang in 2009, which is able to handle 150,000 tons a year. It has also developed industrial clusters for the recycling of the metals.