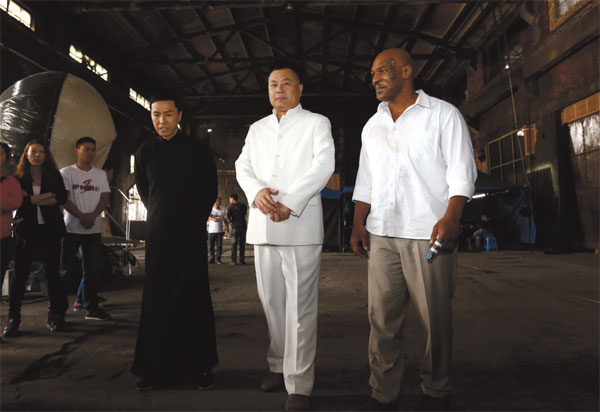 Chinese kungfu star Donnie Yen (left), Ip Man 3's main investor Shi Jianxiang (middle) and Mike Tyson meet the press on May 16 at a film studio in Shanghai, where part of the upcoming film about Bruce Lee's teacher is being shot. [Provided to China Daily]
Ip Man 3
, a recently released Hong Kong martial arts film, is under scrutiny for box office fraud, with allegations that the movie's box office receipts have been artificially hyped.
Officials with the State Administration of Press, Publication, Radio, Film and Television launched an investigation this month, and said they would look into the potential issues of faked ticket sales, and the severe irregularities of box office fluctuations.
The fake box office receipts won't be counted, and improper marketing behavior will be dealt with according to the law, the administration said in a statement.
The action movie, which was released on March 4, has ruled the Chinese box office with nearly 600 million yuan ($92 million) in revenue in just six days.
In March, often a low season for movie sales, its box office performance was beyond expectations.
According to a report in business magazine Caijing, screenings of Ip Man 3 were bizarre since the tickets were sold out quickly for unpopular times, such as in the morning, at midnight, but the cinemas were reported to be virtually empty.
The report said that Shanghai Kuailu Investment Group, the investor in the film, is inflating ticket sales as part of a strategy to raise capital.
Kuailu responded in a statement that Ip Man 3 is a great film and there is no need to fabricate the box office.
In fact, it is alleged that Kuailu tends to securitize its box office assets, and raise funds from its peer-to-peer and crowdfunding platforms, based on box office expectations.
In addition, Shanghai Shenkai Petroleum Equipment Corp Ltd is reported to have offered to buy a fund, and the fund's subject of investment is the box office rights of Ip Man 3.
Industry sources said a few blockbuster Chinese films, such as Lost in Hong Kong and Monster Hunt, have been the subject of allegedly inflated box office sales.
The phenomenon is an unspoken rule in the industry, since many film producers will reserve some costs as box office allowances.
Moviegoers can usually buy film tickets at a discount, and producers will subsidize the remainder of the full price, which can be regarded as a promotional activity.
However, if there is no real demand to see the film, but producers buy the tickets in advance, this is considered illegal.
Peng Kan, research and consulting director at Legend Media Co, a Beijing-based consulting agency, said: "Fabricating box offices is not new, but this time the approach is quite explicit.
"The box office of the first week is key, as it decides the later screening schedules of a film at cinemas. Hyping box offices can help a film with its marketing campaign."